Recipe: Duck and noodle salad with hoisin dressing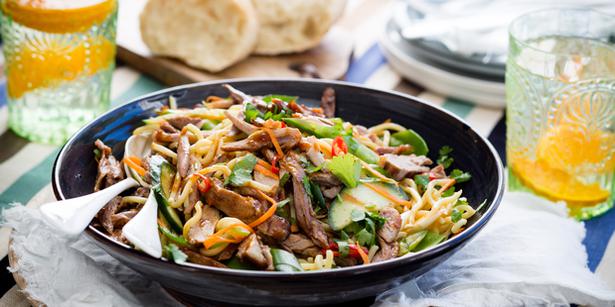 Friday April 25, 2014
Duck and noodle salad with hoisin dressing
Serves 4 as part of picnic
• 1 tsp Chinese five spice
• 2 duck legs
• Salt and pepper
• 1 Tbsp oil
• 400g cooked egg noodles
• 2 carrots, sliced into thin strips
• ½ cucumber, sliced thinly
• 2 spring onions, sliced thinly
• ½ cup roughly chopped coriander
• ½ red chilli, sliced thinly
Sauce
• ½ cup hoisin sauce
• ¼ cup plum sauce
• 2 Tbsp peanut oil
• juice of ½ lemon
1. Preheat an oven to 180C.
2. Rub the five spice over the duck legs and season with salt and pepper. Heat 1 Tbsp of oil in a frying pan and sear the legs on both side until nice and golden. Place in the oven and bake for 50 minutes, until well cooked through.
Remove and cool enough to handle. Shred the meat.
3. In a large bowl place the noodles, carrots, cucumber, spring onions, coriander and chilli. Add the shredded duck.
4. To make the sauce: in a small bowl combine the hoisin sauce, plum sauce, peanut oil and lemon juice.
5. Stir through the sauce until mixed well.
6. Serve in a large bowl and garnish with a few extra coriander leaves and slices 
of chilli.
Share this: