Viva Recipe: Duck breast on vermicelli with tamarind dressing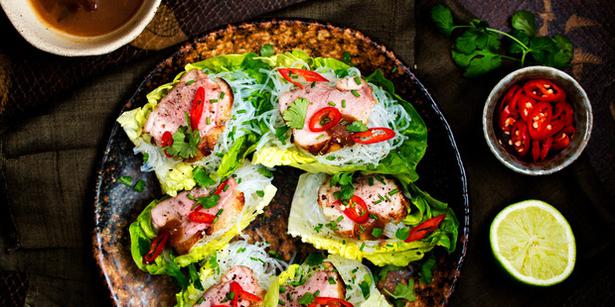 Tuesday June 24, 2014
Makes 20
• 2 duck breasts
• 2 tsp hoisin sauce
• 2 Tbsp tamarind puree
• ½ chilli, chopped finely
• 1 clove garlic, crushed
• Zest and juice of 1 lime
• 20 baby cos leaves
• 150g vermicelli, soaked in hot water for 10 minutes, then drained
• Salt and pepper, to taste
• ¼ cup chopped coriander
1. Preheat oven to 200C.
2. Heat a frying pan to a high heat. Score skin of duck. Place into frying pan, skin down, to brown. Smother 1 tsp of hoisin on to meat. Place straight into oven, skin side up, for 8 minutes. Remove and set aside to cool on a plate.
3. In a small bowl place tamarind, chilli, garlic and lime. Stir to combine.
4. Lay cos leaves on a platter. Place a small pile of noodles on each leaf. Slice duck thinly on an angle and place a slice on to noodles. Add a little sauce to each. Season with salt and pepper. Top with chopped coriander.
Share this:
More Food & Drink / Recipes