Recipe Extract: Anytime Crumble From New Book Grow Younger With Great Food
Don't be fooled, though, Dr Cat Stone and Jessica Giljam-Brown's new book is more than just a cookbook
SPONSORED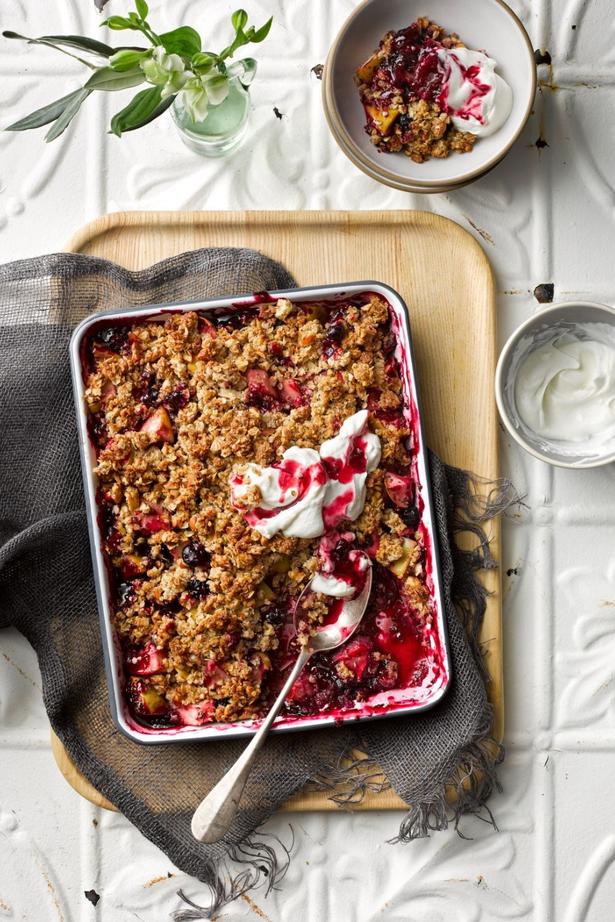 Tuesday Sept. 10, 2019
A shared philosophy around health, food and ageing was what inspired Dr Catherine Stone and Jessica Giljam-Brown to collaborate on an exciting new venture.
Dr Cat, an award-winning cosmetic doctor and the founder of The Face Place MedSpa, found her mantra echoed in holistic nutritionist Jessica, and so the idea to co-author a book was born.
Combining Dr Cat's extensive knowledge in the field of cosmetic medicine, with Jessica's one-to-one nutrition experience, Grow Younger With Great Food holds the answers to many frequently asked questions that both experts had been probed with previously.
"While working with clients I often hear how frustrated and confused people are when it comes to nutrition and food choices," Jessica says. "It is my aim that with this book, we provide people with simple daily choices and recipes that will reduce stress, increase energy and improve overall vitality so that they can grow younger from the inside out.
Dr Cat agrees, saying: "Growing younger and having more vitality as we age is a dream that can come true. With the right mindset, tools, and determination, the woman or man staring back in the mirror doesn't have to be someone you don't recognise. It can be the best representation of who you are — no matter what your age."
Although built around the framework of recipes and nutrition, Grow Younger with Great Food is not your average cookbook.
The book features sections on popular health and wellness topics including hormones, sleep, mood, energy, libido and digestion, as well as more than 90 gluten- and dairy-free easy to make recipes that almost anyone can master.
While it's common to feel overwhelmed with the number of resources available to claiming to help you achieve optimum wellness, Grow Younger With Great Food cuts through all the noise by tailoring its approach to individuals based on their age and stage of life.
While being strongly evidence-based around the latest science, Dr Cat is quick to explain Grow Younger With Great Food is more about how to naturally and safely improve the way people look and feel both inside and out.
Health tips and practical advice are sprinkled throughout the recipes to educate readers in how to make positive lifestyle changes that stick.
Chapters on how to lead a healthy life in your twenties, thirties, forties, fifties, and in your sixties and beyond;  deal with issues like diet, movement, social connection, as well as health indicators specific to that age range, for example, post-natal depletion or menopause.
The nutrition chapter unpacks macro and micronutrients, and how best to utilise these to support your body's needs.
Foodies will love how each recipe is coded with symbols to make for quick reference when deciding what to eat this week, from low carbohydrate or vegetarian to vegan, paleo or gluten- and dairy-free.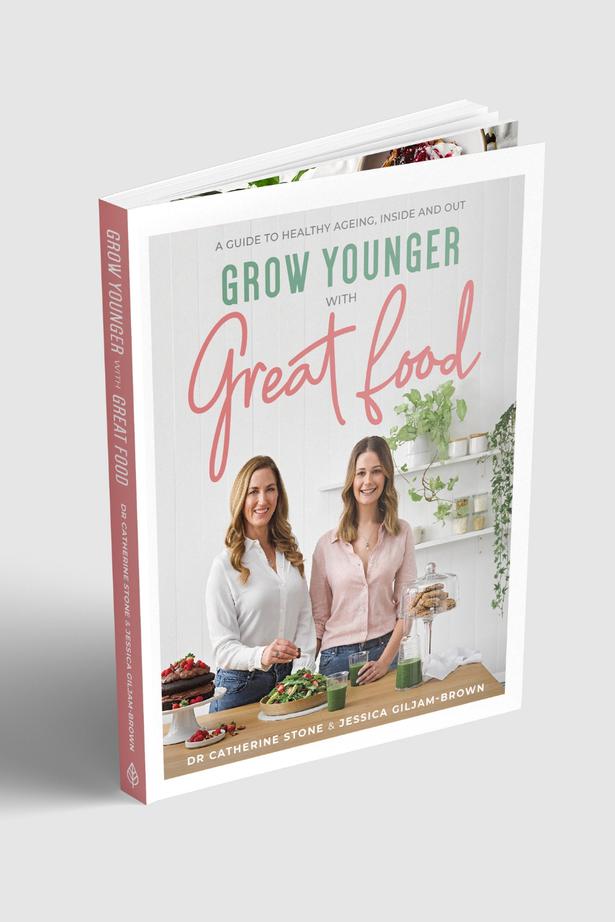 ANYTIME CRUMBLE
Serves 8-10

"Who made the rule that fruit crumble was a dessert meal? We think that the combination of fruit, oats and nuts and seeds deserves to be a meal you can enjoy any time of the day. This dish is packed with fibre, nourishing plant fats and Vitamin C-rich fruit. Cooked apples contain pectin, a soluble fibre that helps to keep your gut bacteria healthy and well fed. Enjoy with coconut yoghurt for breakfast, eat cold as a snack, or enjoy as a traditional dessert."
For the fruit filling
2 cups mixed berries, fresh or frozen
3 apples, cored and cubed
2 Tbsp chia seeds
3 Tbsp maple syrup
Juice of ½ a lemon
2 tsp vanilla extract
1 tsp cinnamon
For the crumble
1 cup wholegrain oats
½ cup ground almonds
½ cup desiccated coconut
½ cup chopped mixed raw nuts
¼ tsp nutmeg
1 tsp ground cinnamon
Pinch of Himalayan salt
¼ cup honey
¼ cup coconut oil
1. Preheat oven to 180C.
2. In an oven-proof serving dish, combine the berries, apples, chia seeds, maple syrup, lemon juice and vanilla. Sprinkle with cinnamon and mix together to coat the fruit evenly.
3. Into a large mixing bowl, mix together the oats, ground almonds, desiccated coconut, chopped nuts, nutmeg, cinnamon and salt.
4. In a small saucepan, melt together the honey and coconut oil then pour over the dry crumble mixture. Mix the dry and wet ingredients together with a wooden spoon until combined.
5. Spoon the crumble over the fruit and bake for 35-45 minutes. The fruit should be soft and bubbling and the crumble gold brown.
6. Serve hot with a dollop of coconut yoghurt.
7. This recipe works with any kind of fruit; try feijoa and banana, pear and raspberry or rhubarb and apricot.
ABOUT THE AUTHORS
Drawing on her experience in non-surgical cosmedicine, Dr Cat has more than 18 years' experience under her belt working both here and abroad. Her pioneering spirit is what saw Dr Cat open two Auckland clinics — one in Britomart and Takapuna — that benefit from her travelling across the world to research cutting-edge cosmeceutical techniques.
Jessica is a holistic nutritionist and the founder of Wellness by Jessica, a North Shore based wellness clinic specialising in women's health, hormones, and fertility, and goes beyond food intake.
Grow Younger with Great Food, RRP$39.95, will be available for pre-sale purchase from today (Tuesday September 10) at 10.30am, until Friday September 13 at 6pm. When you purchase during this time you will have access to the special pre-sale price and automatically be sent a mini eBook which includes three exclusive recipes not include in the book itself.
Visit Wellnessbyjessica.com to purchase.
Following the pre-sale, Grow Younger With Great Food will be available from Wellnessbyjessica.com and from leading bookstores from October 16.

Share this: