Recipe: Fennel and paprika grissini with parsley and almond pesto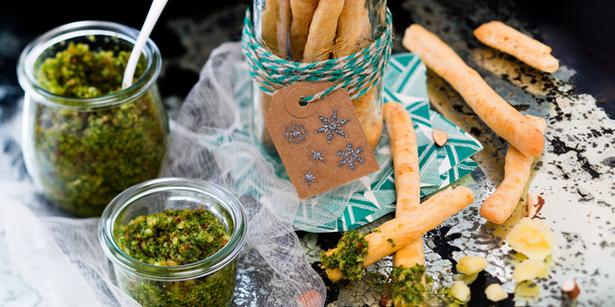 Wednesday Dec. 10, 2014
PARSLEY AND ALMOND PESTO
Makes 3 cups
• 2 tightly packed cups parsley
• 2 cloves garlic, crushed
• Zest and juice of 1 lemon
• 1 cup toasted almonds
• 1 cup grated parmesan
• 1 cup olive oil
• Salt and freshly ground pepper to taste
1. Into a food processor place parsley and garlic. Blitz until parsley is chopped well. Add lemon, almonds, parmesan and oil. Blend until very well combined. Season with salt and pepper.
2. Pour into containers and seal.

FENNEL AND PAPRIKA GRISSINI
Makes 20
• ½ cup tepid milk
• 1 tsp sugar
• 1 ½ tsp dry yeast
• 2 Tbsp olive oil
• 1 tsp salt
• 1 ½ cup plain flour
• ½ tsp fennel seeds, crushed
• ½ tsp smoked paprika
• ½ cup grated parmesan
1. Place milk into a bowl. Mix sugar and yeast then sprinkle over the milk. Stand for 15 minutes until frothy. Add oil.
2. In a large bowl combine salt, flour, fennel and paprika. Pour yeast mix into middle of flour and stir until dough is formed. Add parmesan and knead until combined. Place into a greased bowl, cover with cling film and leave in a warm place for 40 minutes to rise.
3. Preheat oven to 170C.
4. Lightly flour bench and knead dough for 2 minutes. Then roll dough into a rectangle approximately 15 x 20cm. Cut strips ½cm wide. Place on to a baking tray lined with baking paper, about 4cm apart. Cover and place in a warm place again for 20 minutes until risen.
5. Place in oven and bake for 10 minutes, then turn over and bake for a further 5 minutes. Cool on a rack. Store in an airtight container.
Share this:
More Food & Drink / Recipes