Recipe: Kale, Chickpea and Feta Tart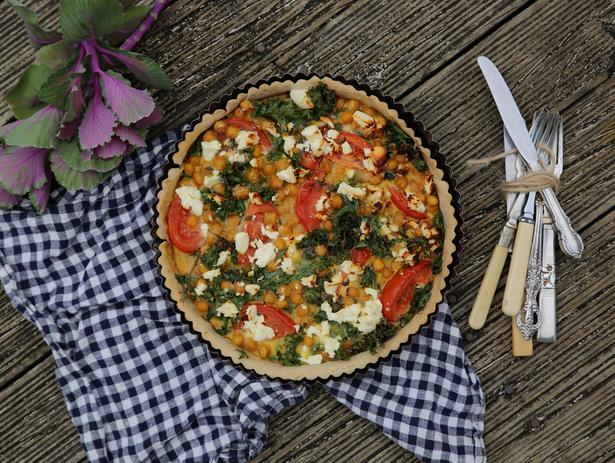 Thursday Sept. 12, 2013
This delicious and nourishing spring tart is a fantastic recipe to use up the abundance of kale we have in season at the moment. This dark and richly textured green vegetable is both pleasingly humble and big flavoured, and has tremendous health benefits. I have also added chickpeas, tomato and feta to give a lovely variety of colors and textures. The naturally gluten free tart crust is made with a combination of buckwheat and brown rice flour, but you could use spelt, quinoa or wholemeal flour if you prefer.

KALE, CHICKPEA AND FETA TART WITH A BUCKWHEAT CRUST
Serves 4
Pastry crust
• ½ cup buckwheat flour
• 3/4 cup brown rice flour
• ¼ cup tapioca flour, potato flour or cornflour
• A pinch of salt
• ¼ cup olive oil
• 1 free range egg
• 4-6 tbsp cold water
Filling
• 3/4 cup cooked chickpeas
• A large bunch of kale, roughly chopped
• 1 large tomato, roughly chopped
• 6 free range eggs
• Zest of one lemon
• 2 garlic cloves, finely minced
• A handful of thyme
• Half a block of feta cheese, broken into pieces
• Extra virgin olive oil for drizzling
• Sea salt
• Pepper
1. In a food processor, add the flours, oil and sea salt. Process for a minute or so, or until the mixture resembles bread crumbs. Add the egg, and continue to process. Gradually add one tablespoon of water at a time, until the dough starts to come together in to a ball.
2. Turn the dough out on to a floured surface, and then knead lightly until it has a soft and silky texture. Cover, and then place in the fridge to chill for twenty minutes.
3. Preheat the oven to 180 C, and then grease a tart tin with coconut oil, olive oil or butter.
4. Roll out the dough in to a large circle, about 1/2 cm thick. Carefully press the dough in to the bottom and up the sides of the tart tin. Trim the dough around the edges, and then prick all over with a fork.
5. Place in the oven, and then bake for 10-15 minutes or until slightly golden.
6. Remove from the oven, and then arrange the kale, chickpeas and tomatoes, inside the tart case.
7. In a small bowl, whisk together the eggs, lemon zest, garlic, and a generous pinch of sea salt and pepper. Pour this mixture over the vegetables, and then sprinkle with the thyme and feta. Drizzle with extra virgin olive oil.
8. Bake in the oven for 30 minutes or until the egg is cooked through.
Share this:
More Food & Drink / Lunch