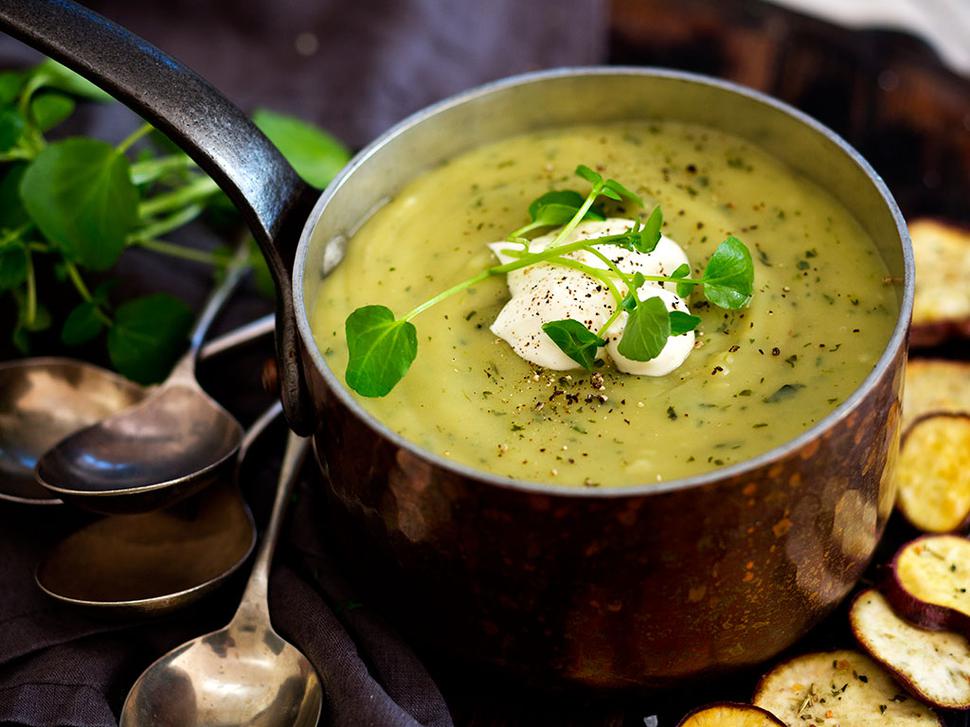 Recipe: Kumara and watercress soup
Thursday May 29, 2014
KUMARA AND WATERCRESS SOUP
Serves 4
• 25g butter
• 1 onion, chopped
• 2 cloves garlic
• 800g purple kumara, peeled, cut into even-sized pieces
• 1 litre good quality chicken stock
• 1 bunch watercress, a few bits reserved for garnish
• 1 cup cream or milk
• Salt and pepper, to taste
To garnish 
• 1 kumara, peeled and sliced thinly
• 1 tbsp oil
• Salt
1. In a large pot melt the butter. Add the onion and garlic. Saute for 4 or 5 minutes until softened but not browned. Add the kumara and stock. Cover and cook for 20 minutes until the kumara is completely soft. Add the watercress and continue to cook for 5 minutes.
2. Using a stick blender or kitchen blender puree until very smooth. Return to a clean pot.
3. For the garish, heat an oven to 180C. Place the sliced kumara in a single layer on to a lined baking dish.
Rub completely with oil and sprinkle with salt. Roast for 20 minutes until golden and crispy.
4. Reheat the soup, add the cream, season with salt and pepper. Serve hot with crispy kumara chips on top and a little watercress 
to decorate.
Share this:
More Food & Drink / Recipes