Recipe: Lamb chops with aubergine, feta and anchovies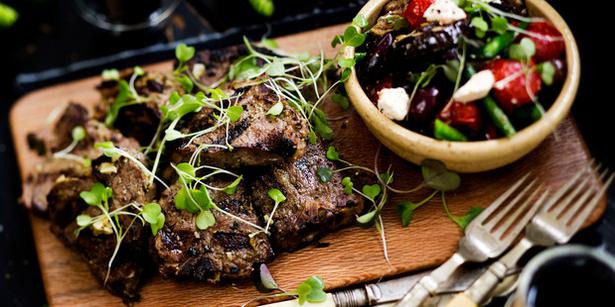 Wednesday Nov. 26, 2014
LAMB CHOPS WITH AUBERGINE, FETA AND ANCHOVIES
Serves 4
• 1 Tbsp pesto
• Zest and juice of 1 lemon
• 2 cloves garlic
• 8 lamb loin chops, excess fat removed
Salad
• ¼ cup olive oil
• 1 aubergine, cut into ½ cm slices
• 250g cherry tomatoes
• 150g green beans, cut in half and blanched
• 150g feta
• ½ cup black olives
• 4 anchovies, chopped
• ¼ cup basil leaves
• 1 Tbsp olive oil
• 1 Tbsp balsamic vinegar
• Salt and freshly ground pepper, to taste
1. Preheat barbecue to medium heat.
2. Combine pesto, lemon juice and garlic together. Rub over lamb and let marinate for at least 30 minutes.
3. Rub aubergine in oil. Place on barbecue for 3 or 4 minutes each side until cooked through and lightly browned. Cut pieces in half and place into a large bowl.
Toss cherry tomatoes and beans on barbecue to brown and soften then place into the bowl with aubergine. Crumble through feta, add olives, anchovies, basil leaves, olive oil and balsamic. Toss until well combined and set aside.
4. Turn barbecue to hot. Place lamb chops on to grill for 2-3 minutes or done to your liking, depending on the thickness of the chops.
Share this: