Recipe: Lamb kebabs with courgette and butter bean salad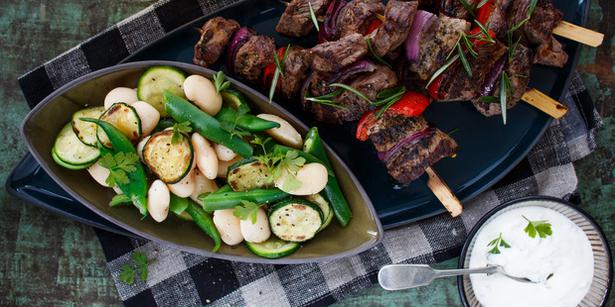 Wednesday Jan. 14, 2015
LAMB KEBABS WITH COURGETTE AND BUTTER BEAN SALAD
Serves 4
• 600g lamb steaks, cut into 2cm cubes
• 1 red pepper, cut into 2cm cubes
• 1 large red onion, peeled, cut into pieces
• 2 Tbsp olive oil
• 2 cloves garlic
• ½ tsp cumin and paprika
• 2 Tbsp chopped rosemary
• 1 tsp brown sugar
• Zest and juice of 2 limes
• 2 courgettes, sliced
• 200g flat green beans, blanched
• 1 cup large butter beans
• ¼ cup Italian parsley
• 1 Tbsp balsamic vinegar
• 2 Tbsp olive oil
• Salt and pepper, to taste
• To serve: 1 cup natural yoghurt, juice of lemon, 1 cup chopped mint
1. On bamboo skewers, thread lamb, pepper and red onion alternately.
2. In a small bowl mix oil, garlic, cumin, paprika, rosemary, sugar and lime. Massage into kebabs and set aside for 20-30 minutes to marinate.
3. Set barbecue to a high heat.
4. Cook skewers for 4 or 5 minutes each side until cooked through and nicely browned. Set aside to rest.
5. Cook courgettes on hot plate for 4 or 5 minutes each side. Place courgettes in a bowl. Add green beans, butter beans, parsley, vinegar, olive oil, salt and pepper.
6. Combine yoghurt, lemon and mint in a small bowl.
7. Serve skewers on a platter with salad served alongside and yoghurt dolloped on top.
Share this: