Recipe: Maple and coconut oil roasted granola with apricots and figs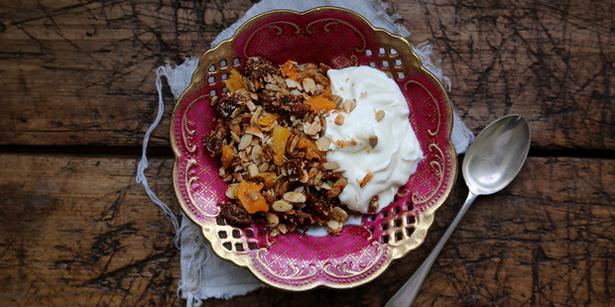 Wednesday Oct. 2, 2013
This maple and coconut oil roasted granola is made entirely out of seeds, nuts, coconut and dried fruit, making it free of gluten, grains, refined sugar and dairy. I have used pure maple syrup in this recipe to give a beautiful earthy flavor and a subtle natural sweetness. This amber liquid is made from the sap of a black or red maple tree, is extremely high in vitamins and minerals, and has quite a low sugar content, making it a wonderful natural sweetener. I tossed the toasted granola with dried figs and apricots, but any type of dried fruit would work well.
MAPLE AND COCONUT OIL ROASTED GRANOLA WITH APRICOTS AND FIGS
Makes one large jar full, about 5-6 serves.
Ingredients
• 1 cup shredded coconut
• ½ cup sunflower seeds
• ½ cup pumpkin seeds
• 1 cup sliced almonds
• 3 Tbsp chia seeds
• 3 Tbsp pure maple syrup
• 3 Tbsp extra virgin coconut oil*
• ½ cup dried apricots, chopped
• ½ cup dried figs, chopped
*you could also use melted butter or olive oil if you prefer.
1. Preheat the oven to 180 C.
2. In a large bowl, toss together the coconut, seeds, and almonds. Add the maple syrup and extra virgin coconut oil, and then stir to coat evenly.
3. Spread the granola mixture out evenly on a large baking tray.
4. Bake in the oven for 10-12 minutes until golden and fragrant. Check every minute or so towards the end as it can burn easily.
5. Remove from the oven, and leave to cool.
6. Add the dried fruit, and then toss to combine.
*gluten free
*grain free
*dairy free
*refined sugar free
Share this: