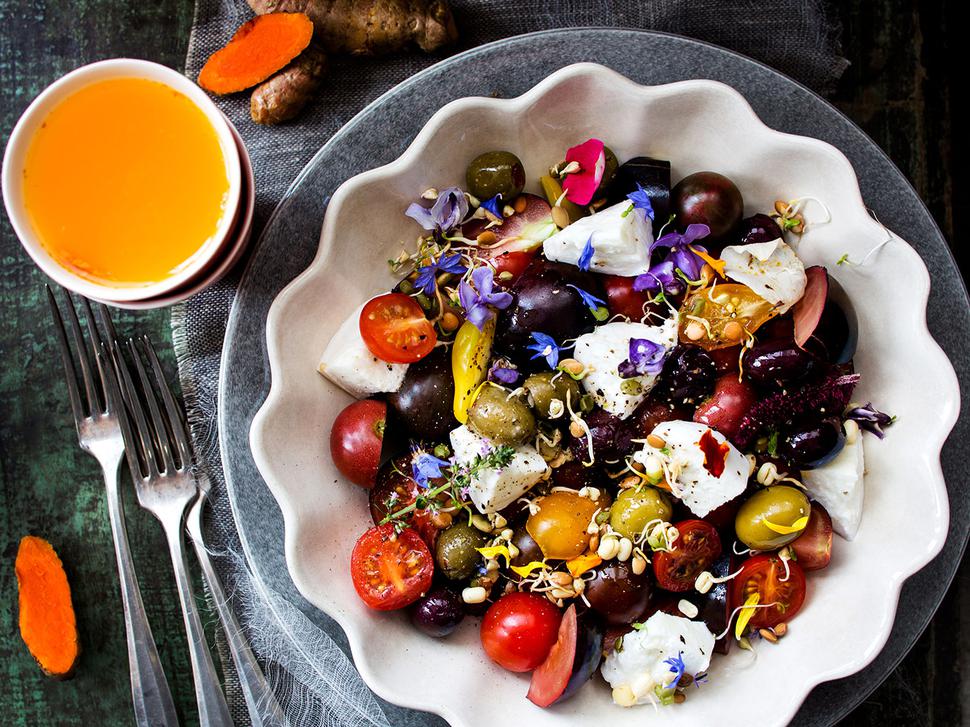 Recipe: Mixed Tomato and Mozzarella Salad
Angela Casley makes a salad using mixed tomatoes
Friday March 21, 2014
MIXED TOMATO AND MOZARELLA SALAD
Serves 4
• 400g mixed tomatoes e.g. black, cherry, yellow
• ½ cup black olives
• ½ cup super-sprouts
• 100g fresh mozzarella, torn
• ¼ cup edible flowers
• Sea salt and freshly ground pepper
Dressing
• Mix together 2 tbsp olive oil, 1 tbsp white vinegar, 1 tsp honey
1. Place the tomatoes in a large bowl, cutting in halves or quarters if they are large. Add olives and sprouts.
2. Toss through the dressing. Place on a platter.
3. Add mozzarella and sprinkle edible flowers over. Sprinkle with sea salt and pepper.

Fresh turmeric and honey drink
• 1/3 cup honey
• 3 tsp turmeric, grated
Combine turmeric and honey to make a paste. Place a teaspoon of this mix into a glass. Add warm water and stir. Finish with a squeeze of lemon.
Share this:
More Food & Drink / Recipes