Recipe: Nourishing buckwheat risotto
Each Thursday Eleanor Ozich of Petite Kitchen will share her thoughts on healthy eating, with recipes and more.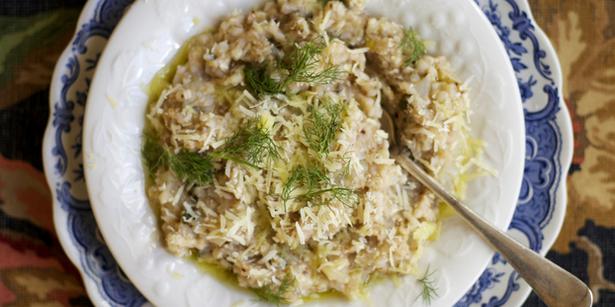 Thursday Aug. 8, 2013
This nourishing buckwheat risotto has a lovely robust flavor, and is incredibly comforting. Despite its name, buckwheat is not a wheat, it is a type of fruit seed, making it gluten free, nutritious and energising. I have used fennel in this dish to give a subtle sweet aniseed flavor, which works in perfect harmony with the white wine, lemon and italian parsley. The perfect mid week winter meal.
BUCKWHEAT RISOTTO WITH WHITE WINE, LEMON AND PARSLEY
Serves 4
Ingredients
• 2 small fennel bulbs, finely chopped, reserve fronds for garnish
• 4 cloves of garlic, roughly chopped
• 2 1/2 cups raw buckwheat
• 1 cup white wine
• 4 cups chicken or vegetable stock
• 2 cups water
• 4 tbsp butter or olive oil
• A large handful of italian parsley, roughly chopped
• Juice of two lemons
• Sea salt
• Pepper
• grated parmesan to serve
1. In a large dry skillet, on medium heat, toast the buckwheat until slightly browned.
Set aside.
2. Melt 2 tbsp of the butter in a large saucepan on medium heat. Add the onion, and garlic, then saute until soft and slightly browned. Add the wine if using, then simmer for 2-3 minutes. Add the buckwheat, stock, water and a pinch of salt and pepper. Bring to a soft boil, then turn down the heat to low, and simmer, while stirring occasionally for 25-30 minutes or until almost all the liquid has evaporated. Stir in the remaining butter, parsley and lemon juice. Adjust seasonings if needed.
3. Serve with a sprinkling of grated parmesan.
*vegetarian
*gluten free
*dairy free (without the parmesan and using olive oil in place of butter)
* Read more about Eleanor's journey to healthy eating here.
Share this: