Beetroot Cured Salmon Recipe
The vibrant colours of this dish offset the delicate taste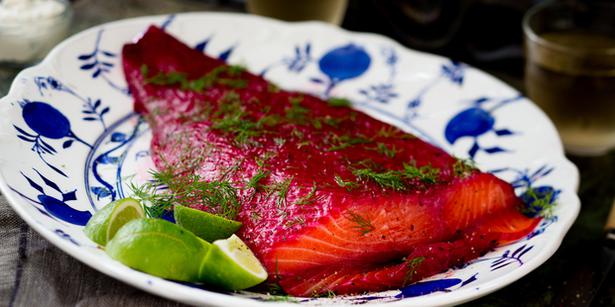 Saturday June 7, 2014
Curing has been a way of storing fish for centuries. For this recipe, you must start two days before. A sharp knife is a must to slice the salmon thinly, and a little will go a long way. The colours are outstanding, the taste delicate. Serve with a small side salad of julienned vegetables, a light soy dressing and a dollop of creme fraiche, or serve on dark rye bread or blini.
Beetroot cured salmon
• 120g sea salt
• 120g sugar
• 400g beetroot, grated
• ½ cup chopped dill
• Zest of 1 lemon
• 100ml vodka
• 20ml soy sauce
• 1kg piece salmon, skin on
To serve
• 150g creme fraiche
• Juice of ½ lime
• 2 Tbsp chopped dill
• Salt and pepper to taste
1. In a bowl combine salt, sugar, beetroot, dill, zest, vodka and soy sauce.
2. Line a tray with plastic wrap. Place salmon on to it. Cover with salt mix and rub all over to ensure salmon is well covered.
Cover tightly with plastic wrap, place a weight on top and refrigerate for at least 24 hours or up to 3 days. Tip off any excess juice every six hours or each day if you are marinating for longer and turn the salmon.
3. Before serving, remove from fridge. Remove excess beetroot then wash salmon gently to remove excess salt. Use paper towels to pat salmon dry. Return to fridge until needed. Once cured it will last for up to a week.
4. In a small bowl combine creme fraiche, lime juice, dill, salt and pepper.
5. Slice very thinly and serve with a little salad and a dollop of creme fraiche, or on rye bread or blini as a nibble.
Share this:
More Food & Drink / Recipes