Petite Kitchen's Cinnamon-Spiced Pumpkin and Hazelnut Cookies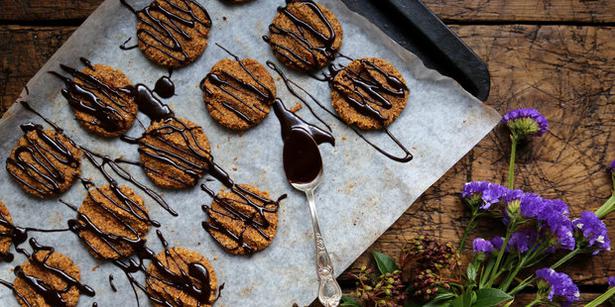 Thursday June 19, 2014
These pumpkin and hazelnut meal cookies are subtly spiced with cinnamon and drizzled with homemade dark chocolate sauce.
They are incredibly soft and chewy, just as a cookie should be, and free of gluten, wheat, refined sugar, dairy and eggs. You could also make them using banana instead of the pumpkin if you prefer. 

CINNAMON-SPICED PUMPKIN AND HAZELNUT COOKIES DRIZZLED WITH HOMEMADE CHOCOLATE SAUCE
Makes 15 cookies
• 2 cups hazelnut meal* 
• 1 tsp cinnamon 
• 1 cup pitted medjool dates
• ½ cup cooked pumpkin puree 
• ½ tsp baking soda 
• 1 Tbsp apple cider vinegar
*You could use any nut meal of your choice; almond works well also.
Chocolate topping
• 3 Tbsp extra-virgin coconut oil 
• 2 Tbsp honey or pure maple syrup
• 2 Tbsp cocoa or cacao powder 
• 1 tsp pure vanilla extract 
1. Set the oven to 160C, and line a baking tray with baking paper.
2. Add the hazelnut meal, cinnamon, dates, pumpkin, baking soda and apple cider vinegar to a food processor. Blend until the mixture begins to come together like a dough.
3. Using your hands, form small balls and place them on the baking tray. Press on each ball lightly to form a flat cookie shape.
4. Bake in the oven for 12 minutes or until lightly golden.
5. Be sure to watch towards the end as the bottoms can burn easily.
6. Remove from the oven and leave to cool.
7. To make the chocolate sauce, melt together the coconut oil and honey over very low heat. Add the cocoa and vanilla, and whisk until smooth.
8. Remove from the heat and leave to cool slightly. The sauce will thicken a little.
9. Using a spoon, drizzle the sauce over the cookies. Place the cookies in the fridge to set for 10-20 minutes. Will keep for 2-3 days in an airtight container.
*Gluten- free 
*Dairy-free 
*Refined sugar-free 
*Egg-free
Share this:
More Food & Drink / Recipes