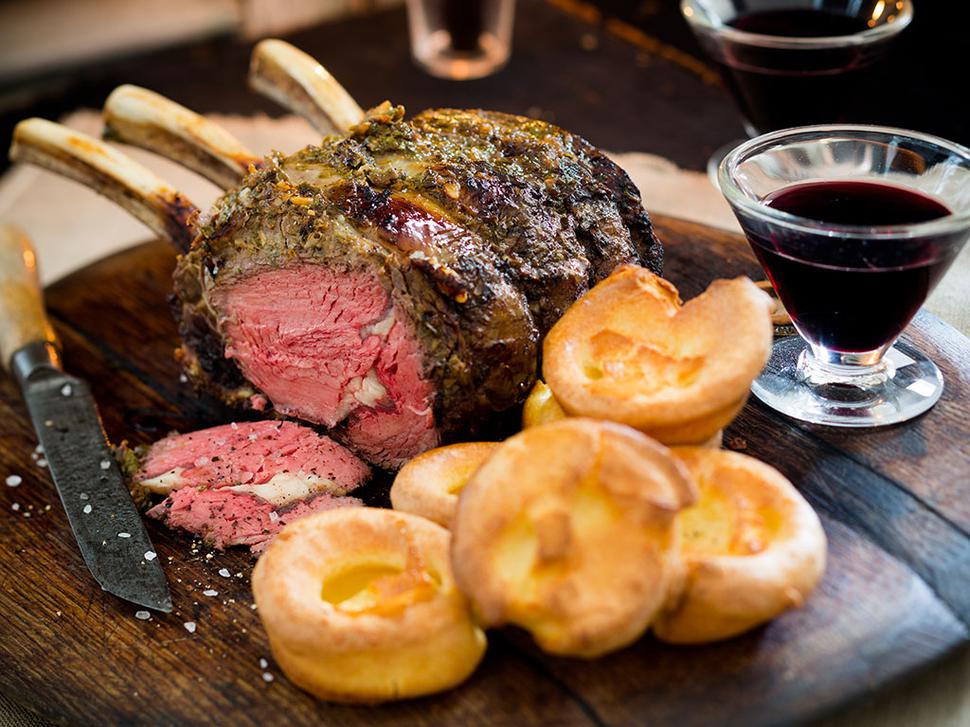 Roast beef and yorkshire pudding
Sunday June 8, 2014
For a winter dinner party, you can't beat a roast: people will love the sense of tradition. I've opted for a beautiful piece of rib-eye beef served with yorkshire pudding.
ROAST BEEF AND YORKSHIRE PUDDING
Serves 6-8
Yorkshire pudding
• 1 cup plain flour
• ½ teaspoon salt
• 2 eggs
• ½ cup milk
• 3 Tbsp water
• 2 Tbsp fat or oil
Crust
• 2 cloves garlic, crushed
• 1 Tbsp tomato sauce
• 1 Tbsp worcester sauce
• ½ cup chopped parsley
• 1 tsp dijon mustard
• 4 anchovies, chopped
• 1 Tbsp olive oil
• zest of 1 lemon
• ½ tsp salt, freshly ground pepper
• 1 Tbsp oil
• 1.5kg rib-eye beef on the bone
• ½ cup red wine
• 2 Tbsp flour
• 1 cup beef stock
1. To make the yorkshire pudding: in a bowl combine flour, salt and eggs. Gradually add milk and water, whisking until you have a smooth batter.
Cover and set aside for at least 1 hour.
2. To make the crust: in a small bowl combine garlic, sauces, parsley, mustard, anchovies, oil, zest, salt and pepper.
3. Preheat oven to 200C.
4. Heat a frying pan to a high heat. Add oil and brown the beef on all sides. Remove and place into an oven-proof dish. Spread crust mixture over beef.
5. Place beef in oven for 40 minutes or until done to your liking. Remove from baking dish, cover and set aside to rest. While puddings cook, make the sauce.
6. Place the baking dish on element and deglaze pan with wine. Sprinkle over flour, season with salt and pepper, then slowly add stock to make a smooth sauce.
7. In the bottom of 10 muffin tins, place a little fat or oil and put in oven until very hot. Remove and quickly pour in batter. Return to oven for 20 minutes until puffed, crispy around the edges and golden. Serve hot with sliced beef and sauce.
Share this:
More Food & Drink / Recipes