Recipe of the Day: Tamarillo upside-down cake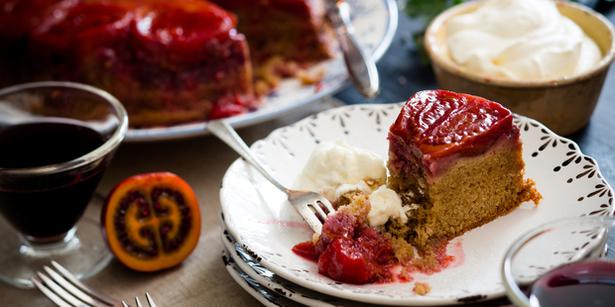 Wednesday June 4, 2014
If you love tamarillos, my fruity dessert is for you. Make it in the morning and keep it at room temperature. I hope for your sake the guests don't eat it all - it is delicious the next day too. It's that time of the year when tamarillos grace my breakfast bowl each morning with yoghurt and muesli or porridge. Eat them while they are in season, as it's a sad day when they have gone and we have to wait another year.
Tamarillo upside-down cake
Serves 8
• 8 tamarillos
• ¼ cup brown sugar
• 225g butter, softened
• 170g caster sugar
• 100g brown sugar
• 1 tsp vanilla
• 3 eggs
• 150g plain flour
• 100g self-raising flour
• ¼ tsp baking soda
• 1 tsp cinnamon
• 1 tsp ginger
• 2 Tbsp milk
• Whipped cream or yoghurt, to serve
1. Preheat oven to 150C. Grease and line the base of a 23cm tin with baking paper.
2. Plunge tamarillos into boiling water for 30 seconds. Remove, cool in cold water and peel skin away. Cut in half lengthways.
3. Sprinkle brown sugar over the baking paper. Arrange tamarillo halves snugly in the bottom of the tin, cut side down.
4. In an electric beater place butter, sugars and vanilla, and beat until light and creamy. Add eggs one at a time and beat well.
5. Sift in flours, baking soda, cinnamon and ginger then mix well. Add milk and stir through. Pour batter gently over tamarillos. Bake for 1 hour and 10 minutes or until a skewer comes out clean.
6. Remove cake and let it stand for 10 minutes before removing from tin. Serve warm or cold with whipped cream or yoghurt.
Share this:
More Food & Drink / Recipes