Recipe: Panforte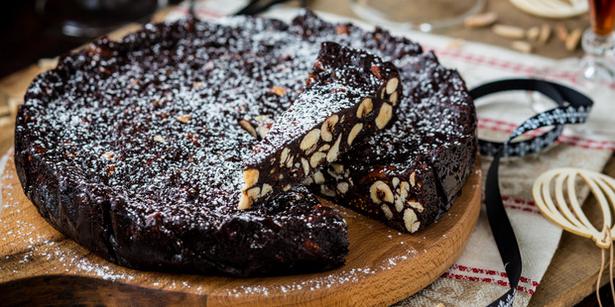 Tuesday Dec. 10, 2013
Panforte
Makes 1 large
• 30g cocoa, sifted
• ¾ cup flour, sifted
• 2½ cups toasted nuts, any of almonds hazelnuts, pecans, chopped roughly
• ½ cup candied lemon
• ½ cup dried figs chopped roughly
• 2 tsp ground ginger
• pinch nutmeg
• ¼ tsp chilli powder
• 80g dark chocolate, melted
• 1 cup castor sugar
• ¾ cup runny honey
1. Line a 22cm cake tin with baking paper, grease and dust with cocoa. Preheat an oven to 160C.
2. Into a large bowl place the cocoa, flour, nuts, lemon, figs, ginger, nutmeg, and chilli. Mix well.
3. Add the melted chocolate and stir through.
4. In a small pot place the sugar and honey. Slowly bring to the boil, then continue to boil until a little dropped into cold water will roll into a ball.
5. Pour into the nut mixture and stir vigorously until combined. Spoon into the cake tin and pat down with the palm of your hand. If your hand is damp the process is easy.
6. Place in the centre of the oven for 35-40 minutes until still slightly soft in the centre but not squidgy. Remove and cool. Then remove the paper, dust with icing sugar and cut into wedges, or wrap for storage.
Share this:
More Food & Drink / Recipes