Petite Kitchen's Jamaican Jerk Chicken
Eleanor Ozich serves a Caribbean-style classic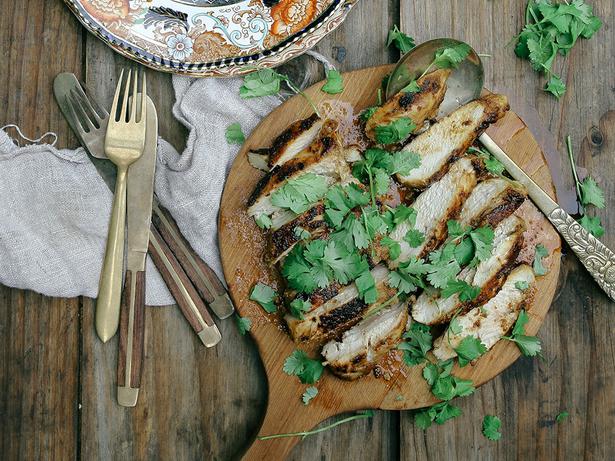 Thursday March 26, 2015
This fabulously fragrant chicken is marinated in a punchy Caribbean-style sauce full of warm and delicious spices. I love to grill the chicken on the barbecue to intensify the flavours, although it can also be pan fried. For maximum flavour, marinate the chicken overnight.

FRAGRANT AND DELICIOUS JAMAICAN JERK CHICKEN
Serves 4
• 8 free-range chicken breasts
For the marinade
• 4 large garlic cloves, peeled
• 2 Tbsp dried chilli flakes
• 1 red onion, chopped
• ¼ cup coconut or muscovado sugar
• Large handful of fresh thyme
• 2 Tbsp ground allspice
• 1 Tbsp sea salt
• 1 tsp dried nutmeg
• 1 tsp ground cinnamon
• ½ cup apple cider vinegar
• ¼ cup soy or tamari sauce
• ¼ cup freshly squeezed lime juice
• ¼ cup freshly squeezed orange juice
• ¼ cup olive oil
• 1 tsp ground black pepper
To serve
• 2 limes, quartered
• Fresh garden greens
• 1 cup plain yoghurt

1. Add marinade ingredients to a blender or food processor and blend until smooth.
2. Lay chicken breasts in a large container or baking dish. Pour marinade on top, making sure it coats chicken well. Cover and leave to marinate in fridge for at least 3–4 hours, or preferably overnight.
3. Grill chicken breasts in a frying pan, chargrill pan or on a hot barbecue over medium high heat for 4–5 minutes on each side, or until the juices run clear when a skewer is inserted into thickest part of chicken.
4. Carve chicken into slices about 1cm thick. Serve warm, with garden greens, a wedge of lime and a dollop of plain yoghurt. Any leftover marinade will keep for up to 1 week in an airtight container in the fridge.

• For more from Eleanor Ozich see petite-kitchen.com
Share this:
More Food & Drink / Dinner