Plum and Coconut Cake Recipe
Try this moreish plum and coconut cake recipe by Angela Casley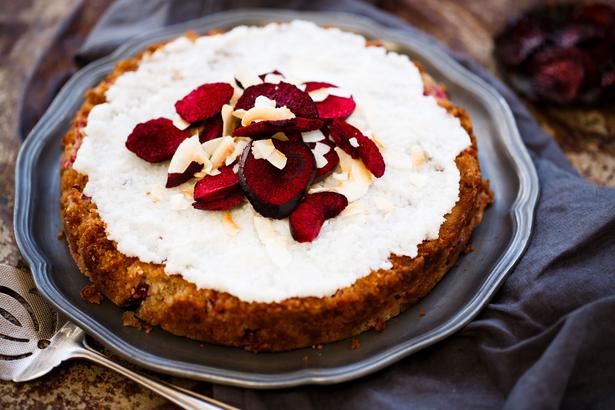 Wednesday Jan. 21, 2015
PLUM AND COCONUT CAKE RECIPE
Serves 8-10
• 150g coconut flour
• 80g ground almonds
• 120g sugar
• ½ tsp mixed spice
• 1 tsp baking soda
• 1 ¼ cup soy milk
• 1 tsp vanilla
• 3 Tbsp coconut oil, softened
• 1 Tbsp white vinegar
• 1 ½ cups chopped plums
Icing
• 1 cup icing sugar
• 1 cup fine coconut
• 2 Tbsp coconut oil
• 2 Tbsp lemon juice
• To garnish - ¼ cup each dried plums and toasted coconut
1. Preheat an oven to 170C. Line a 22cm tin with baking paper.
2. In a large bowl combine the flour, almonds, sugar, spice and baking soda.
3. Whisk together the soy milk, vanilla, oil, and vinegar. Pour into the dry ingredients and gently stir. Fold through the plums.
4. Tip the mixture into the tin and flatten the top with the back of a spoon. The mixture is quite dry, don't be alarmed. Place into the oven for 40-45 minutes until lightly browned. Remove and cool in the tin.
5. To make the icing - mix the icing sugar, coconut, coconut oil and lemon juice together well. Spread on the cooled cake and decorate with dried plums and toasted coconut.
Share this:
More Food & Drink / Recipes