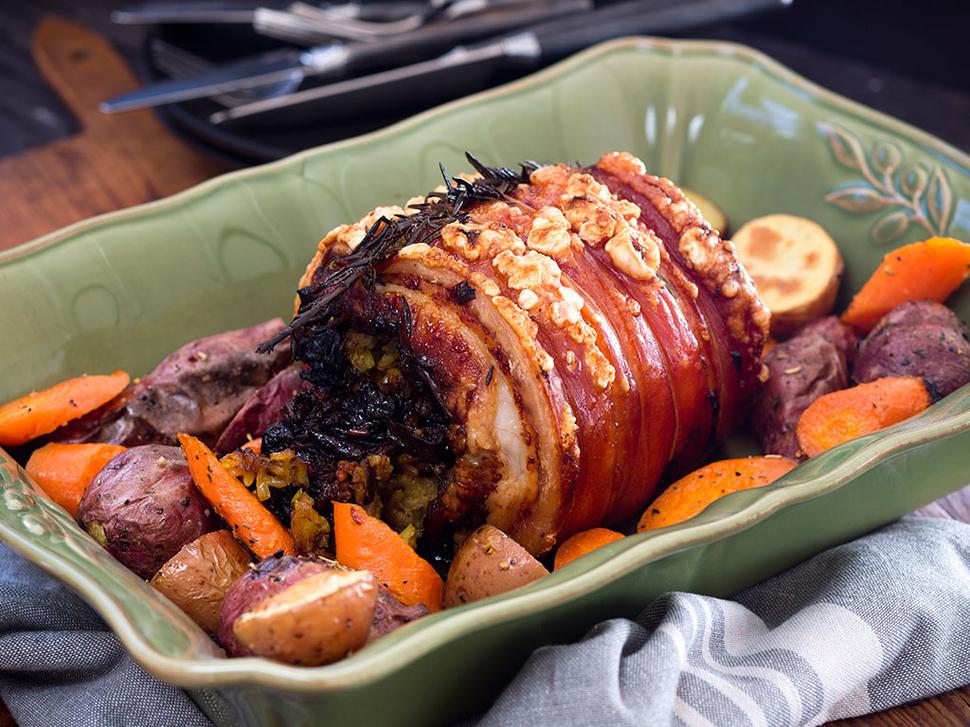 Recipe: Pork Loin Rolled with Leek, Prune and Pistachio Pilaf
Friday Aug. 1, 2014
PORK LOIN ROLLED WITH LEEK, PRUNE AND PISTACHIO PILAF
Serves 4-6
• 2 Tbsp butter
• ½ leek, chopped
• 2 cloves garlic, crushed
• ¼ tsp turmeric
• ½ tsp cumin
• ½ tsp coriander
• 1 Tbsp chopped fresh rosemary
• ½ cup prunes, cut in half
• Zest and juice of ½ orange
• 1 cup cooked rice
• ¼ cup parsley
• 1kg piece pork loin, skin scored
• Vegetables to roast - kumara sweeties, carrots, parsnip etc. rubbed with oil
1. Preheat oven to 180C.
2. Place butter into a frying pan and melt. Add leek and garlic. Cook for 5 minutes until leek has softened. Add turmeric, cumin, coriander and rosemary. Cook for 2 minutes.
3. Into a bowl place leek, prunes, orange, rice and parsley.
Combine well.
4. Lie the pork flat on the bench and place stuffing into middle. Roll and tie tightly with string. Place on to a roasting dish.
5. Place into oven for 1 hour then add your choice of vegetables to roast. Continue to cook for 35-40 minutes until golden and brown.
6. If pork hasn't crackled turn up the oven to 200C for the last 20 minutes.
7. Serve with gravy and/or apple sauce.
Share this:
More Food & Drink / Recipes