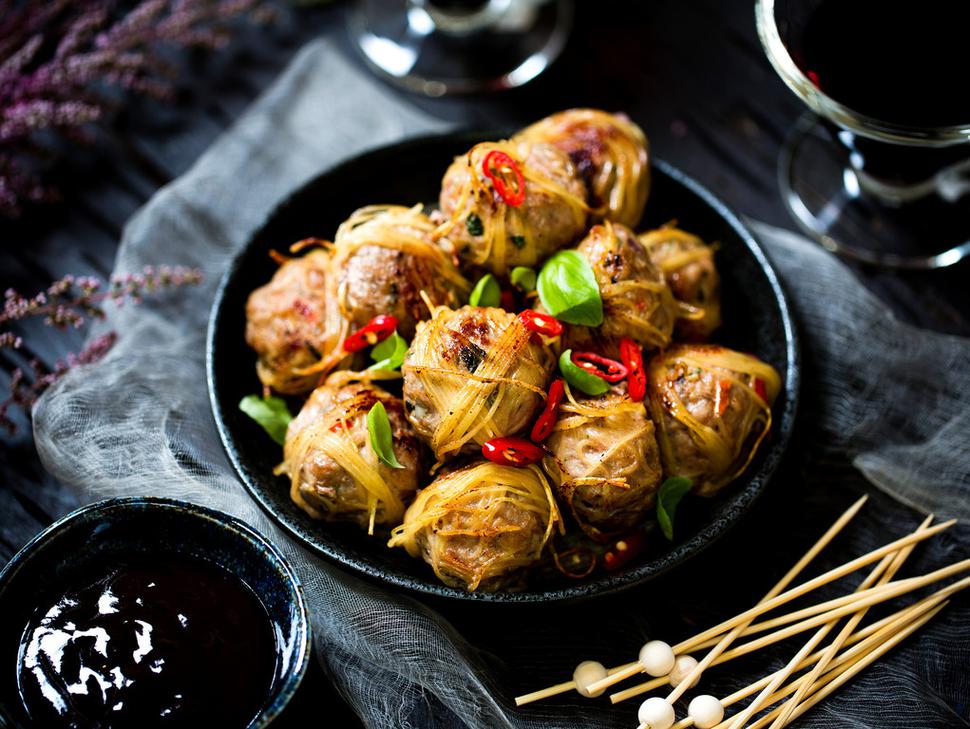 Recipe: Pork noodle balls
Wednesday Aug. 13, 2014
PORK NOODLE BALLS
Makes 30
• 4 spring onions, cut roughly
• 1 Tbsp grated ginger
• 1 red chilli, ½ chopped finely
• ½ cup roughly chopped coriander
• 1 Tbsp fish sauce
• 2 Tbsp oyster sauce
• Zest and juice of 1 lime
• 400g pork mince
• 2 cups cooked spaghetti noodles
• Basil or coriander leaves to garnish
1. Place spring onions, ginger, chilli, coriander, fish sauce, oyster sauce, and lime in a kitchen processor. Blitz until ingredients are well combined, but still a bit chunky.
2. Place pork into a large bowl and add the blitzed mix.
3. Cut 1 cup of noodles into small pieces and add to pork. Use your hands to combine the mixture well.
4. Roll pork into small balls. Wrap remaining noodles around each ball. Refrigerate until ready to cook.
5. Heat oven to 180C.
6. Heat oil in a frying pan to a medium heat. Sear noodle balls on all sides, then place on a baking tray lined with paper. Once they are all browned place into hot oven for 10 minutes to cook through.
7. Serve hot, garnished with the remaining chilli, sliced basil or coriander leaves and your favourite plum sauce for dipping.
Share this:
More Food & Drink / Recipes