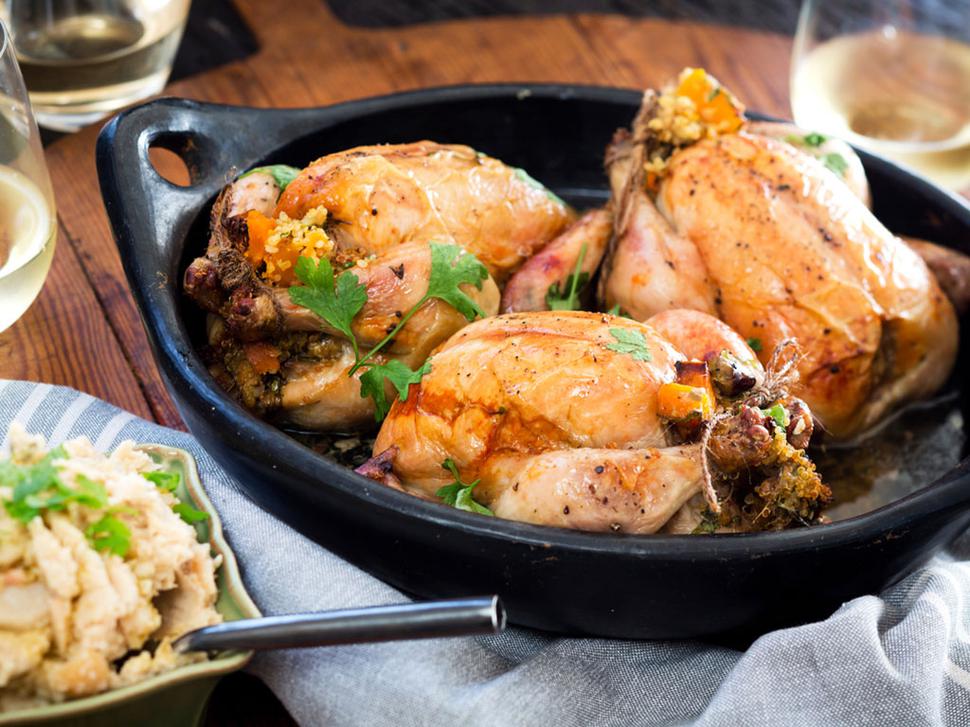 Recipe: Poussin with Pumpkin and Quinoa Stuffing
Friday Aug. 1, 2014
POUSSIN WITH PUMPKIN AND QUINOA STUFFING
Serves 4
• 4 poussin
• 1 Tbsp olive oil
• 1 onion, chopped
• 2 cloves garlic, crushed
• 1 cup pumpkin, cubed
• ½ cup chicken stock
• Salt and pepper to season
• 1 cup cooked quinoa
• ½ cup pistachio nuts
• 1 cup chopped rocket
• Zest and juice of 1 lemon
• 2 Tbsp oil
• 1 cup white wine
1. Preheat oven to 180C.
2. Wash poussin inside and out and dry with paper towel.
3. Heat oil in a frying pan to medium heat. Add onion and garlic and cook for 3 or 4 minutes until softened. Add pumpkin and chicken stock. Continue to cook until the pumpkin is just cooked through, the stock absorbed. Season with salt and pepper.
4. Add quinoa, nuts, rocket and lemon zest and juice to the pumpkin and combine well.
5. Fill cavities of the poussin with stuffing and tie the legs together with string. Rub the bird with olive oil and then place in a roasting dish. Pour in the wine, then pop into the oven for 45-50 minutes until tender and juicy.
6. When cooked, rest for 10 minutes before serving. The juices from the pan will make delicious gravy. Serve with bean puree.
BEAN PUREE - In a kitchen processor place a 420g tin of butter beans, 1 garlic clove, juice of ½ lemon, 2 Tbsp oil, 1 tsp fresh rosemary, salt and pepper. Blitz until creamy and delicious. Add a little water if needed.
Share this:
More Food & Drink / Dinner