Recipe: Prawn and vermicelli lettuce rolls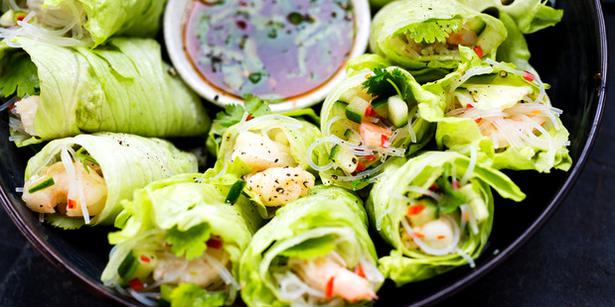 Friday Nov. 21, 2014
PRAWN AND VERMICELLI LETTUCE ROLLS
Makes 8
• 100g vermicelli
• 200g cooked prawns, cut into thirds
• 1 red chilli, chopped up small
• ½ cup chopped coriander
• ¼ telegraph cucumber, diced small
• 1 spring onion, chopped
• 1 Tbsp sweet chilli sauce
• 1 Tbsp kecap manis
• ½ tsp salt
• 1 cup bean sprouts, optional
• 8 iceberg lettuce leaves
Dipping sauce
• Juice of 1 lime
• 2 tsp fish sauce
• 1 Tbsp sweet chilli sauce
• 1 Tbsp brown sugar
• 2 Tbsp chopped coriander

1. Soak the vermicelli as per packet instructions, drain and cool.
2. Into a bowl combine the prawns, chilli, coriander, cucumber, spring onion, sweet chilli, kecap manis, salt and bean sprouts if using. Combine to mix well.
3. Cut the hard core from the leaves and trim into an even shape. Fill with prawn mixture, roll and enjoy with the dipping sauce.
Share this: