Recipe: Prosciutto, spinach and snap peas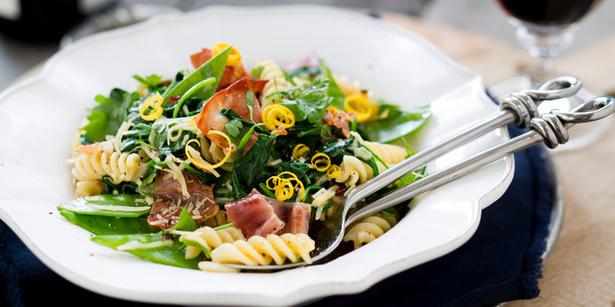 Tuesday July 15, 2014
Prosciutto, spinach and snap peas
Serves 4
• 1 Tbsp oil
• 6 slices prosciutto, chopped 
• 2 cloves garlic
• ½ cup snap peas, sliced thinly
• 4 eggs
• 1 cup grated parmesan
• Salt and freshly ground pepper
• 60g baby spinach
• ¼ cup chopped parsley
• lemon zest
1. Heat oil in pan. Add prosciutto, garlic and peas. Cook until prosciutto is starting to brown.
2. Whisk eggs with half the parmesan and season well.
3. When pasta is just cooked, drain and put back in pot. Add prosciutto, eggs, spinach and parsley. Stir on the heat briefly until spinach is starting to wilt, but don't curdle eggs. Remove from heat.
4. Serve immediately, topped with remaining parmesan and a sprinkling of lemon zest.
Share this: