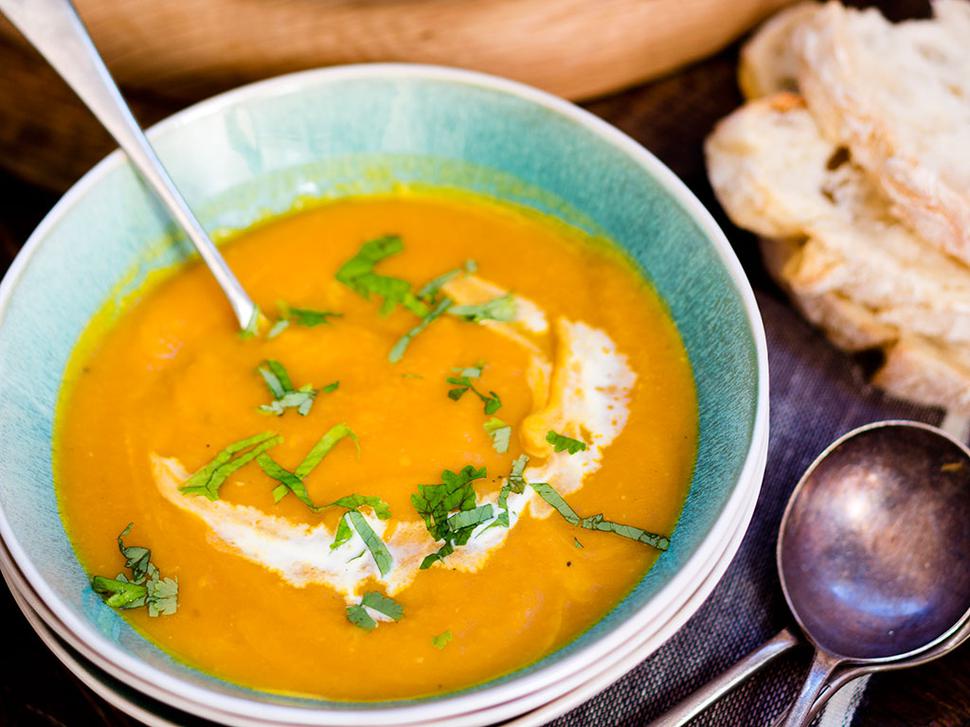 Recipe: Pumpkin and Green Curry Soup
Thursday May 16, 2013
PUMPKIN AND GREEN CURRY SOUP
Serves 4
• 1.5kg pumpkin, peeled, and cut in chunks
• ¼ cup olive oil
• 50g butter
• 2 onions, chopped
• 4 cloves garlic, chopped
• 1 Tbsp grated fresh ginger
• 1 Tbsp green curry paste
• 1.5 litres chicken stock
• 1 tsp brown sugar
• 1 cup coconut milk
• Salt and pepper to taste
• ½ cup chopped coriander
1. Set oven to 180C. In an ovenproof dish toss the pumpkin and oil and cook for 25 minutes until soft and golden.
2. Heat the butter in a large saucepan. Add the onion and garlic and cook for 4 minutes until softened. Stir in the ginger and curry paste and stir for a further 2 minutes until fragrant.
3. Add the pumpkin, stock and brown sugar, and simmer for 20 minutes until all the flavours develop. Blend until it is the texture you prefer, either smooth or slightly chunky.
4. Return to the heat, add the coconut milk, and season to taste.
5. Before serving add coriander and serve with hot bread.
Share this:
More Food & Drink / Dinner