Raw Broccoli and Smoked Salmon Salad Recipe
Petite Kitchen's Eleanor Ozich shares her recipe for a raw broccoli and smoked salmon salad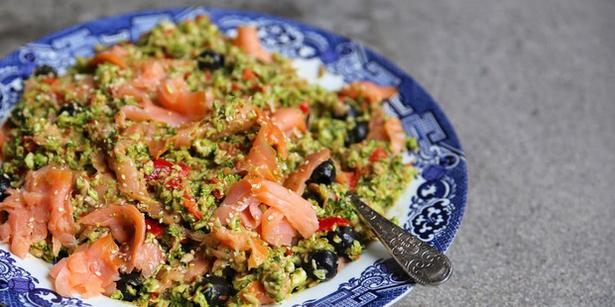 Thursday April 10, 2014
Here is a recipe for a brilliant raw broccoli salad tossed with smoked salmon, black olives, toasted seeds and a creamy avocado dressing. The trick is to add plenty of garlic and lemon for an incredible flavour kick.
This delicious dish truly has an incredible texture from the crunchy broccoli, and can be served without salmon if you are vegetarian or vegan. Fantastic on its own, or makes a wonderful side. Enjoy!

RAW BROCCOLI AND SMOKED SALMON SALAD
• 1 head of broccoli, broken in to florets
• 1 red capsicum, roughly chopped
• a handful of fresh herbs of your choice
• 200g smoked salmon
• 1 cup black pitted olives
• ½ cup toasted seeds
Dressing
• 1 avocado
• juice of a lemon
• ¼ cup extra virgin olive oil
• ¼ cup water
• 2 cloves of garlic
• sea salt
• pepper
1. To prepare the dressing, add all of the ingredients in to a blender. Add a large pinch of sea salt and pepper, and then blend until smooth.
2. In a food processor, add the broccoli, capsicum and herbs. Pulse until a rice like consistency is achieved.
3. Transfer to a bowl, and then toss with the avocado dressing, smoked salmon, black olives and toasted seeds.
Serve immediately!
*gluten free
*dairy free
*vegetarian/vegan (without the salmon)
Share this:
More Food & Drink / Recipes