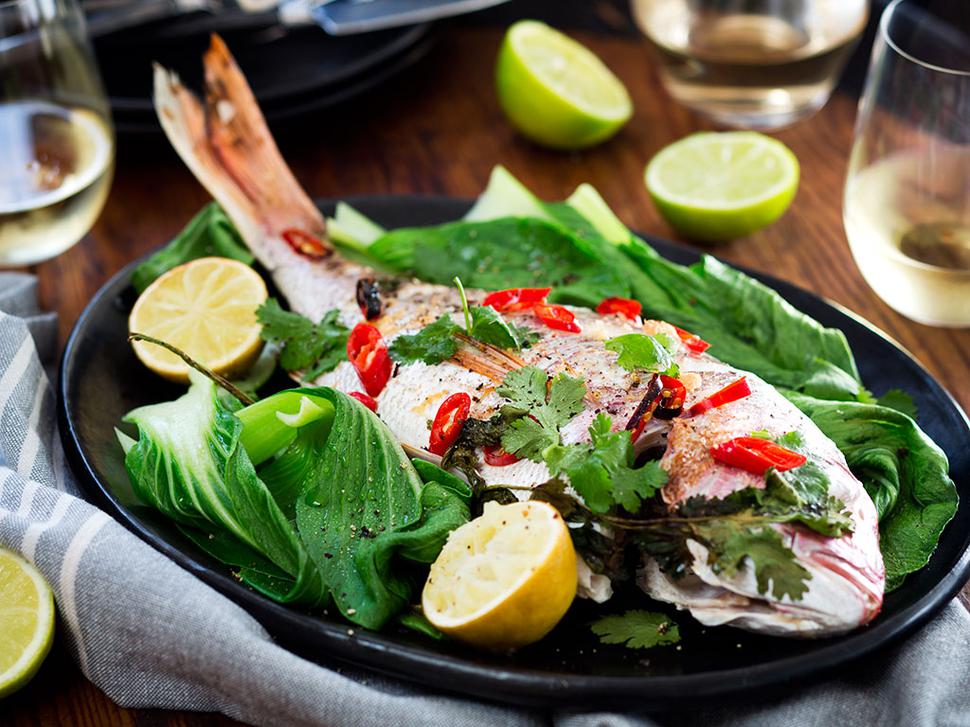 Recipe: Roast Whole Snapper with Asian Spices
Friday Aug. 1, 2014
RPAST WHOLE SNAPPER WITH ASIAN SPICES
Serves 4
• 1kg snapper
• Salt and pepper
• 2 Tbsp grated ginger
• 1 red chilli, sliced thinly
• 2 tsp sesame oil
• 2 Tbsp fish sauce
• 1 cup chopped coriander
• ¼ cup tamarind
• 1 Tbsp brown sugar
• 2 heads of bok choy
• 1 cup white wine
• 2 limes to serve
1. With a sharp knife cut ½ cm slits diagonally through the skin 2cm apart on both sides of the snapper. Season with salt and pepper.
2. In a small bowl combine ginger, chilli, sesame oil, fish sauce, coriander, tamarind and brown sugar. Rub into both sides of the fish, then refrigerate until ready to cook.
3. Preheat oven to 200C.
4. Place fish on baking paper in a roasting dish. Place bok choy around base and pour wine over. Put into the oven for 40 minutes or until skin peels away easily.
5. Serve with a good squeeze of lime and rice on the side.
Share this:
More Food & Drink / Recipes