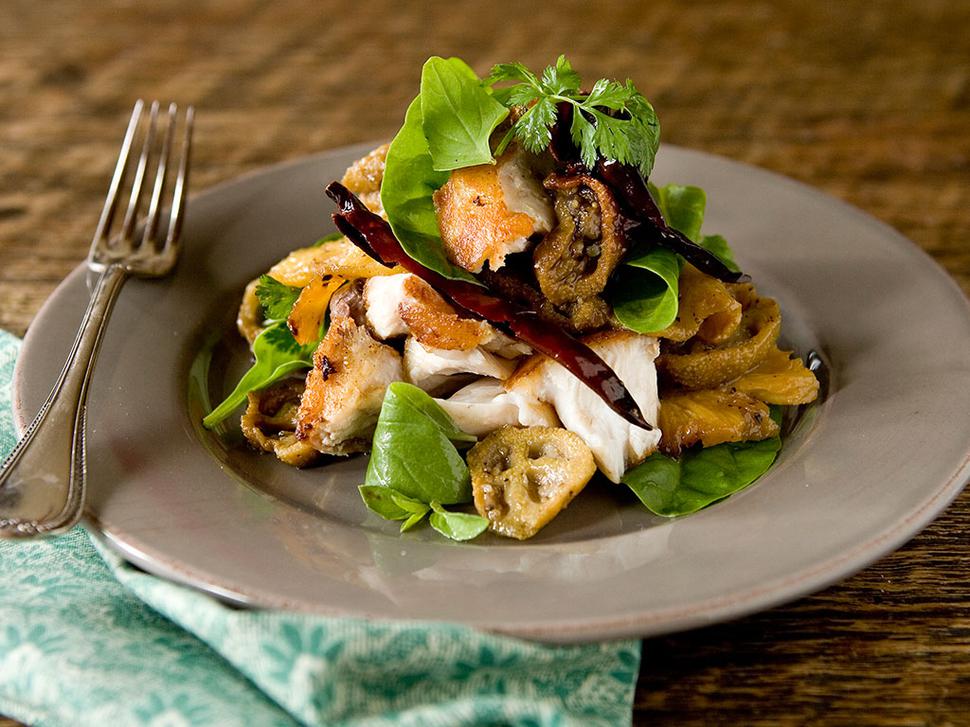 Recipe: Salad of Hapuku, Feijoa, Chilli and Coriander
Wednesday April 9, 2008
SALAD OF HAPUKU, FEIJOA, CHILLI AND CORIANDER
Serves 4
• 4 feijoas
• 1 drizzle light olive oil, plus 1 Tbsp
• 1 pineapple, sliced thinly into 8 slices
• Zest and juice of 1 lemon
• 2 red banana chillies
• 2 x 200g fillets hapuku fillets 
• 1 handful baby spinach
• Chopped coriander to garnish
• Thai basil leaves, to garnish
1. Preheat oven to 200C.
2. Peel and slice the feijoas, drizzle with oil, season and lay in an oven dish with the pineapple, lemon and chilli. Cook for 30 minutes, turning occasionally.
3. Heat a frying pan, add 1Tbsp of oil and add the hapuka which has been seasoned with salt and pepper.
4. Cook for 5 minutes then turn and continue cooking for another few minutes, depending on the thickness. Let rest.
5. Break up the fish and lay on plates, alternating with the feijoa, pineapple, spinach leaves and herbs.
6. Drizzle over juices from the oven dish and serve.
<widget:Embed Content>
Share this:
More Food & Drink / Lunch