Recipe: Scallop, oyster and ruby grapefruit risotto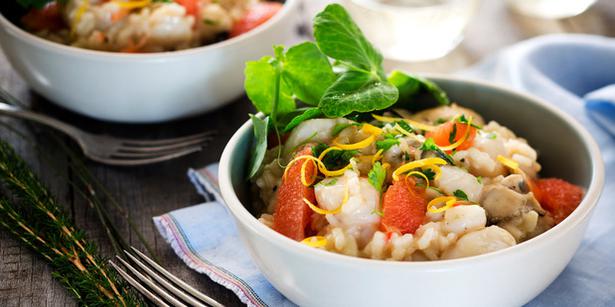 Friday May 23, 2014
Scallop, oyster and ruby grapefruit risotto
Serves 4
• 2 Tbsp olive oil
• 1 onion, chopped finely
• 2 cloves garlic, crushed
• 2 cups risotto rice
• 2 litres seafood or chicken stock 
• ½ cup white wine
• 20g butter
• 450g combined scallop and oysters, juices reserved
• ½ cup grated parmesan
• Freshly ground pepper, to taste
• 1 ruby grapefruit, segmented
1. In a heavy-based pot heat the oil. Add the onion and garlic. Cook for a few minutes until translucent but not browned.
2. Add the rice, stirring for 3 or 4 minutes to start the cooking process. Pour in the wine, and wait for it to be absorbed by the rice. Ladle in the hot stock, each time cooking until it is absorbed. Continue this process and be patient to achieve a nice creamy risotto. Add any juices from the seafood.
3. Towards the end, when the rice is nearly cooked, prepare the seafood. Heat the butter in a frying pan. Add the scallops and oysters and fry until they are lightly browned.
4. Remove the risotto from the heat and add the seafood to the risotto. Stir through the parmesan, freshly ground pepper, grapefruit and chopped parsley or dill.
5. Serve while piping hot with a little extra parmesan if required.
Share this: