Recipe: Seared Beef and Israeli Couscous Salad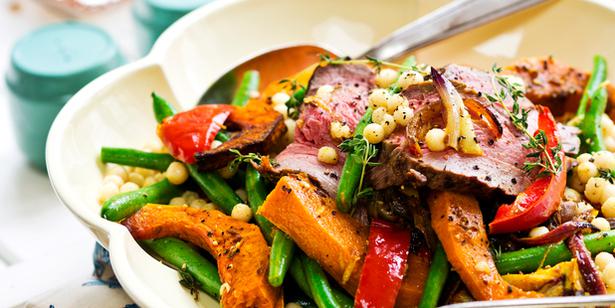 Sunday Aug. 31, 2014
Serves 4
• 500g beef fillet
• 1 tsp grated ginger
• 2 cloves garlic, crushed
• 2 tsp brown sugar
• 1 Tbsp oil
• 200g Israeli couscous
• 500ml chicken stock
• 1 red onion, sliced
• ½ red pepper, sliced
• 200g pumpkin, sliced
• ½ tsp turmeric
• 1 tsp coriander
• ½ tsp cumin
• ½ tsp paprika
• 2 Tbsp olive oil
• 100g beans, blanched
• 1 cup soft fresh herbs, chopped roughly

Dressing
•2 Tbsp each of lemon juice, sweet chilli and olive oil
1. Place the beef in a small bowl. Add ginger, garlic, brown sugar and 1 tablespoon oil. Combine well and set aside for 20 minutes or until ready to cook.
2. Cook couscous in the chicken stock following packet instructions.
3. Heat oven to 180C. Place red onion, pepper, pumpkin, turmeric, coriander, cumin and paprika on an oven tray. Toss in the 2 tablespoons of oil and bake for 20 minutes until slightly brown and cooked through.
4. Heat a pan to a high heat and sear beef on all sides and place in the middle of the vegetables. This will also take 20 minutes. Remove and rest for 10 minutes.
5. In a large bowl, mix couscous with dressing and gently add vegetables. Place on a platter. Slice beef and arrange with the salad.
Share this:
More Food & Drink / Recipes