Slow-Roasted Pork Leg Recipe with Pomegranate Slaw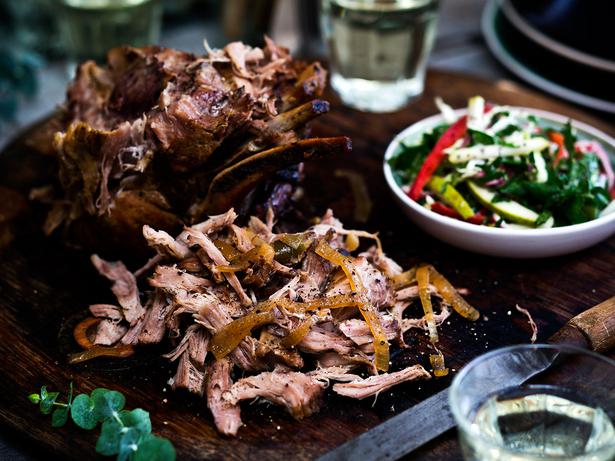 Friday March 14, 2014
SLOW-ROASTED PORK LEG WITH POMEGRANATE SLAW
Serves 6-8
• 1.5kg pork leg, bone in
• 4 cups coffee, cooled
• ¼ cup salt
• 2 Tbsp rosemary, roughly chopped
• ¼ cup brown sugar
• 2 onions, sliced
• 6 cloves garlic, chopped
• 1 cup strong coffee
• 1 cup cider
• 1 cup chicken stock
• 2 sprigs rosemary
• 2 Tbsp mustard
• 1 Tbsp sea salt
• Freshly ground pepper
• ¼ cup maple syrup
Slaw
• ¼ cabbage, shredded
• ½ red onion
• 60g kale, shredded
• ¼ red pepper, sliced thinly
• ¼ cup chopped fresh parsley
Dressing
• Mix together ¼ cup good mayonnaise, 2 Tbsp pomegranate syrup and 1 Tbsp lemon juice.

1. Place the pork in a large bowl or bucket. Add the coffee, salt, rosemary and brown sugar. Leave to soak, refrigerated, for at least 4 hours or up to 2 days.
2. Set oven to 140C.
3. Remove pork from the marinade and pat dry. Place in a large baking dish.
4. Add the onion, garlic, coffee, cider, chicken stock and rosemary. Rub the pork with the mustard, sea salt and pepper. Cover with a lid or tinfoil. Place in the preheated oven for 4 hours. Check after 2 hours and turn the meat over. Remove from the oven and strain off the liquid.
5. Turn the oven up to 200C. Top the pork with maple syrup and return it to the oven for a further 10 minutes to brown the top. Remove from the oven and shred with two forks.
6. Mix the slaw ingredients together with the pomegranate dressing. Serve the pork with slaw and crusty bread.
Share this:
More Food & Drink / Recipes