Soft Tacos Recipe with Tuna and Avocado
Try these delicious soft tacos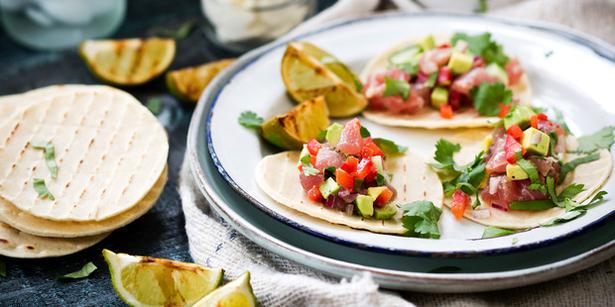 Friday Feb. 28, 2014
SOFT TACOS WITH TUNA AND AVOCADO
Makes 18
Tacos
• 150g fine cornmeal or flour
• ½ tsp salt
• 100ml cold water
• 1 Tbsp olive oil
Filling
• 150g tuna, diced into little pieces
• ½ red onion, diced small
• ½ red pepper, diced small
• 1 avocado, diced small
• ½ cup diced cucumber
• ½ cup chopped coriander
• Juice of 2 limes
• Salt and pepper to taste
• Extra limes for serving
1. In a bowl place the cornmeal and salt. Add the water and oil and mix until you have a smooth dough.
2. Divide into 24 small balls. Cover and rest for 10 minutes in the fridge.
3. Flatten each ball with the palm of your hand. Place between two pieces of baking paper. Roll to 3mm thick and a 10cm diameter.
4. Heat a heavy-based frying pan to very hot. Lightly spray the surface with oil.
5. Cook the tortillas for 1 minute each side until lightly browned. Wrap in a cloth to keep warm and soft.
6. For the filling: In a small bowl place the tuna, onion, pepper, avocado, cucumber and coriander. Add the lime juice and season with pepper and salt. Stir well and place in the fridge for 30 minutes.
7. When ready to serve place a little of the tuna mix on to top of each tortilla. Serve with extra lime wedges.
Share this: