Recipe: Spinach and Ricotta Torte with Italian Cherry Tomatoes
Each Thursday Eleanor Ozich of Petite Kitchen will share her thoughts on healthy eating, with recipes and more.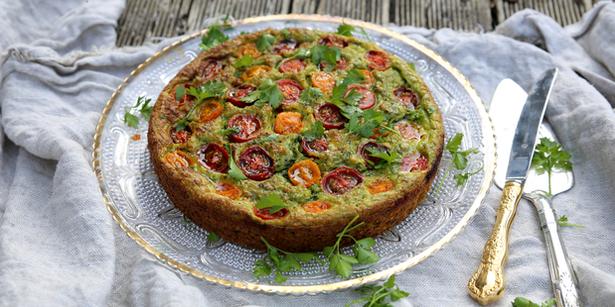 Thursday Sept. 26, 2013
This savoury spinach and ricotta torte is ridiculously simple to make, and has the most wonderful light and creamy texture. The flavours in this torte are perfectly balanced with the addition of lemon zest, salty parmesan and sweet roasted cherry tomatoes.
Any variety of dark leafy green would work well - spinach, kale, silver-beet or cavalo nero are all fantastic options.
Once the torte is ready to serve, I like to sprinkle with a handful of Italian parsley and then drizzle with extra virgin olive oil, creating a delicious yet simple meal.
The perfect relaxed lunch to share with family and friends.
SPINACH AND RICOTTA TORTE WITH ITALIAN CHERRY TOMATOES
Serves 4-6
Ingredients
• 1 cup ricotta cheese
• Large bunch of baby spinach
• 6 free range eggs
• Zest of one lemon
• 1/3 cup brown rice flour*
• Handful of grated parmesan
• 1 punnet of Italian cherry tomatoes
• Handful of Italian flat leaf parsley
• Extra virgin olive oil for drizzling
• Sea salt
• Pepper
*you could also use spelt flour, buckwheat flour, ground almonds or your choice of flour.
1. Preheat the oven to 170 C, and grease a cake tin with butter or olive oil.
2. Place the ricotta, spinach, eggs, lemon zest, flour, parmesan, and a large pinch of sea salt and pepper in to a food processor. Blend until smooth.
3. Pour the batter in to the prepared cake tin.
4. Slice each tomato in half, and then arrange on top of the torte.
5. Place in to the oven, and bake for 35-40 minutes or until cooked through.
6. Remove from the oven, and leave to cool before carefully inverting on to a plate.
7. Serve with a sprinkling of parsley, and a drizzle of extra virgin olive oil.
Share this:
More Food & Drink / Recipes