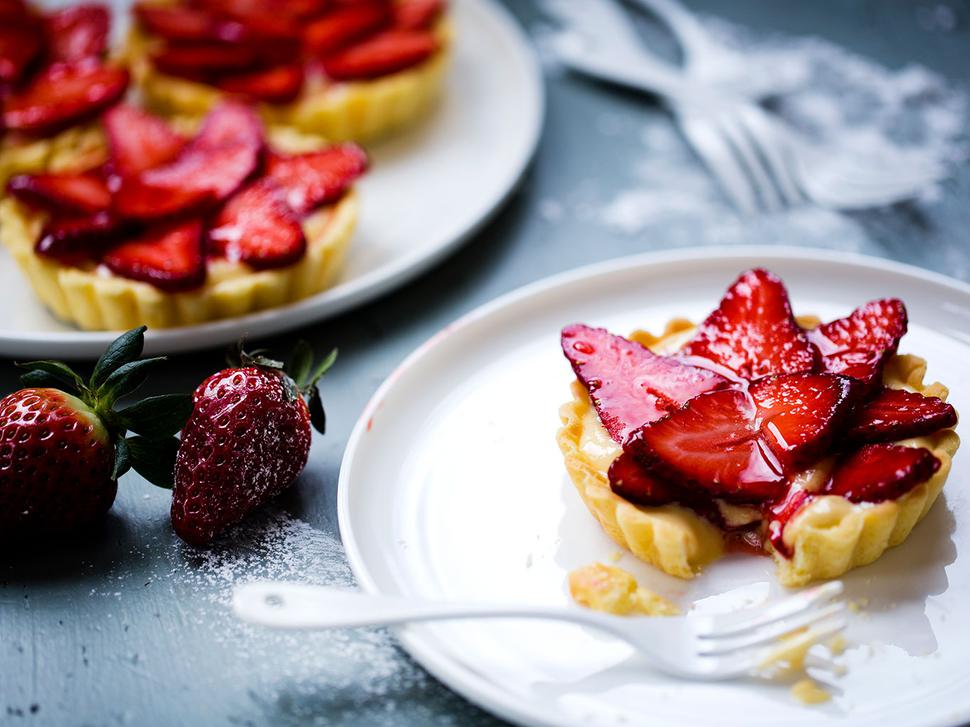 Recipe: Strawberry Custard Tarts
Angela Casley makes the perfect delectable dessert
Wednesday Nov. 12, 2014
STRAWBERRY CUSTARD TARTS
Makes 6
Pastry
• 200g flour
• 2 tsp caster sugar
• 120g butter
• 1 egg yolk
• 1-2 Tbsps cold water
Custard
• 250ml milk
• ½ vanilla pod, split, or ¼ tsp vanilla
• 3 egg yolks
• 50g caster sugar
• 1 Tbsp flour plus 1 Tbsp cornflour
• 1 punnet strawberries
• 2 Tbsp strawberry jam, melted
1. Preheat oven to 180C.
2. To make pastry, place flour, sugar and butter into a kitchen processor. Blitz until it resembles fine breadcrumbs. Add egg yolk and 1 tablespoon water. Blitz to form a ball of dough. If it is a little dry add more water. Place dough into fridge for 20 minutes.
3. Roll dough on a lightly floured bench. Roll and line 6 x 9cm tart tins. Bake blind for 15 minutes. Remove and cool.
4. To make custard, bring milk to boil with vanilla pod, then remove from heat and allow it to infuse for 5 minutes. Remove vanilla pod.
5. Beat egg yolks and sugar until light and pale. Add flours and beat until smooth. Pour milk slowly into egg mixture, beating until it is a smooth cream.
6. Pour custard back into clean pot. Bring to a simmer, stirring constantly until it thickens. If lumps form remove from heat, whisk till smooth and return to heat until the custard is thick and silky. Pour in bowl, cover with plastic wrap and leave to cool completely.
7. Spoon cooled custard into prepared tart tins. Cut strawberries into slices and decorate tarts. Brush gently with jam to glaze.
Share this:
More Food & Drink / Recipes