Recipe: Tasty calzone the kids will love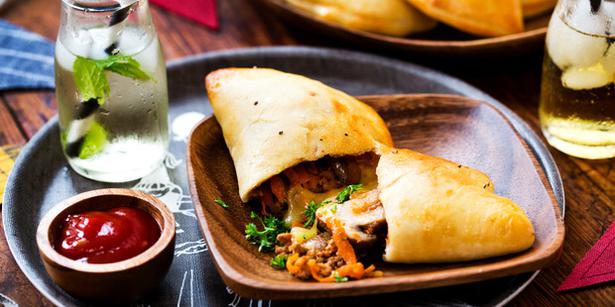 Tuesday July 22, 2014
Calzone makes a tasty surprise as you can fill them with whatever you want, great if the kids have friends over. They can pick their own fillings, which could be as simple as pizza sauce, ham, mushroom and cheese. You can always hide a few vegetables, too. Or make a filling like I've done here: lamb with mushrooms and mozzarella. Fold the light dough and bake. This dough has only one rising time, which makes the process quicker.
Calzone
Makes 8
• 1½ tsp yeast
• 1 tsp sugar
• 75ml warm water
• 2 tablespoons oil
• 2 cups flour
• 1 tsp salt
• Extra flour for kneading
Filling
• 1 tsp oil
• 1 onion, finely chopped
• 1 clove garlic, crushed
• 400g minced lamb
• 1 cup grated carrot
• ¼ cup water
• 2 Tbsp tomato paste
• 1 tsp worcestershire sauce
• Salt and pepper to taste
• 1 cup sliced mushrooms
• 1½ cups grated mozzarella
• 1 egg to brush
1. Combine yeast and sugar. Sprinkle on to the warm water. Leave in a warm place for 10 minutes until frothy. Add oil.
2. In a large bowl place flour and salt. Pour liquid into centre of the dough and combine until you have a soft dough. Place on to a floured board and knead for 5-8 minutes using a little extra flour as required until smooth. Place dough into a lightly oiled bowl, cover and put into a warm place for 1 hour or until doubled in size.
3. To make filling - Heat oil in a frying pan, add onion and garlic. Cook for 2 or 3 minutes until softened. Add lamb, and using a fork to separate meat, cook until lightly brown and cooked through. Add carrot and water. Continue to cook until carrot has softened. Remove from heat, stir through tomato paste, worcestershire sauce and mushrooms.
4. Preheat an oven to 200C.
5. Divide dough into eight pieces. Roll each out into approximately 15cm circles. On half of the dough place lamb mince with a sprinkling of mozzarella. Wet edges, fold dough over and stick edges together. Brush top with egg. Place on to baking tray.
6. Put into oven for 15-20 minutes until calzones are golden and puffed.
7. Serve hot with tomato sauce.
Share this:
More Food & Drink / Recipes