Recipe: Tofu scramble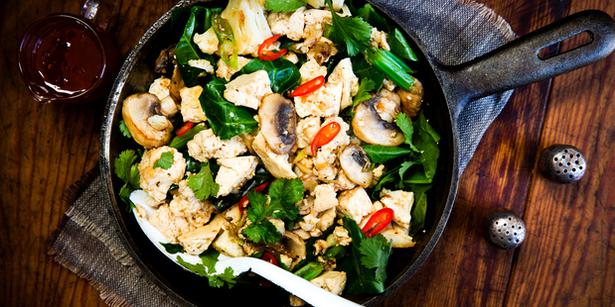 Tuesday Sept. 16, 2014
Tofu scramble
Serves 2 as a main
• 2 Tbsp olive oil
• 2 spring onions
• 1 red chilli, chopped small
• 2 cloves garlic, sliced
• 1 Tbsp grated ginger
• 1 cup sliced mushrooms
• 1 cup sliced cauliflower
• 300g firm tofu, crumbled
• 1/3 cup soy sauce
• 1 Tbsp sweet chilli
• 2 Tbsp lemon juice
• 2 handfuls spinach
• Salt and pepper, to taste
1. Heat oil in a frying pan or wok to a high heat. Add spring onions, chilli, garlic, ginger, mushrooms and cauliflower. Fry for 5 minutes until cauliflower is just soft, still with a little crunch.
2. Add tofu and toss through to heat.
3. Combine soy, sweet chilli and lemon juice in a small bowl. Toss through tofu and vegetables. Finally add spinach, stir through and allow to wilt.
4. Season and serve hot in bowls.
Share this:
More Food & Drink / Recipes