Recipe: Tomato and onion tart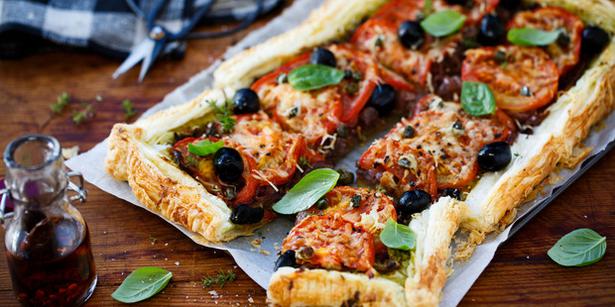 Wednesday Jan. 28, 2015
TOMATO AND ONION TART
Serves 4-6
• 400g block puff pastry
• 2 red onions, sliced
• 1 Tbsp olive oil
• 2 Tbsp balsamic vinegar
• 2 Tbsp pesto
• 3 large tomatoes, sliced
• 20 black olives
• ½ cup shredded parmesan
• Salt and pepper
• ½ cup basil leaves
1. Preheat an oven to 180C.
2. Roll the pastry on a lightly floured board into a 20 x 30cm rectangle. Fold 1.5cm of the edges in to form a border and press down with a fork. Prick the centre of the pastry all over. Place on a baking tray and bake for 15 minutes, remove and, using the back of spoon, push air from the centre of the pastry to flatten. Bake for a further 5 minutes, then remove.
3. In a frying pan place the onions and olive oil. Cook on a low heat for 10 minutes until completely soft. Stir through the balsamic.
4. To assemble the tart - spread the pesto over the base, cover with the onions, sliced tomatoes and olives, and sprinkle the parmesan. Season with salt and pepper.
5. Place back into the oven for 20 minutes until golden and the tomatoes have completely softened. Sprinkle with basil leaves and serve warm with a salad.
Share this: