Recipe: Tomato, kale and vermicelli salad with almond and honey dressing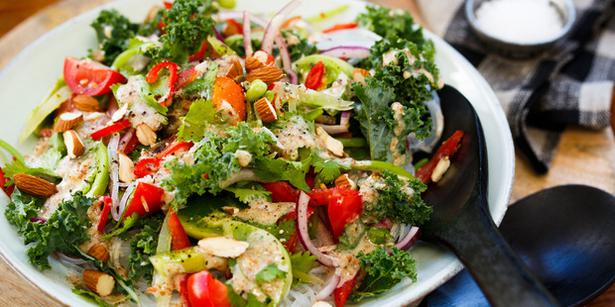 Wednesday Jan. 28, 2015
TOMATO, KALE AND VERMICELLI SALAD WITH ALMOND AND HONEY DRESSING
Serves 4
Dressing
• ½ cup almonds
• 2 Tbsp runny honey
• 2 Tbsp oil
• 2 Tbsp white wine vinegar
• ¼ cup water
Salad
• 3 cups roughly chopped tomatoes
• ½ red onion, sliced thinly
• ½ red pepper, sliced thinly
• 1 red chilli, sliced thinly
• ½ cup snap peas, thinly sliced
• 2 cups kale torn in pieces
• 1 cup coriander or basil leaves (or both)
• ¼ cup roughly chopped almonds
• 4 cups cooked vermicelli
• Salt and pepper to taste
1. To make the dressing, place the almonds, honey, oil, vinegar and water in a blender and blitz until almost smooth, adding a little extra water if needed.
2. Place the tomatoes, onion, pepper, chilli, snap peas, kale, herbs, chopped almonds and vermicelli in a large bowl. Pour over the dressing and combine well.
3. Serve on a large platter and season with salt and pepper.
Share this: