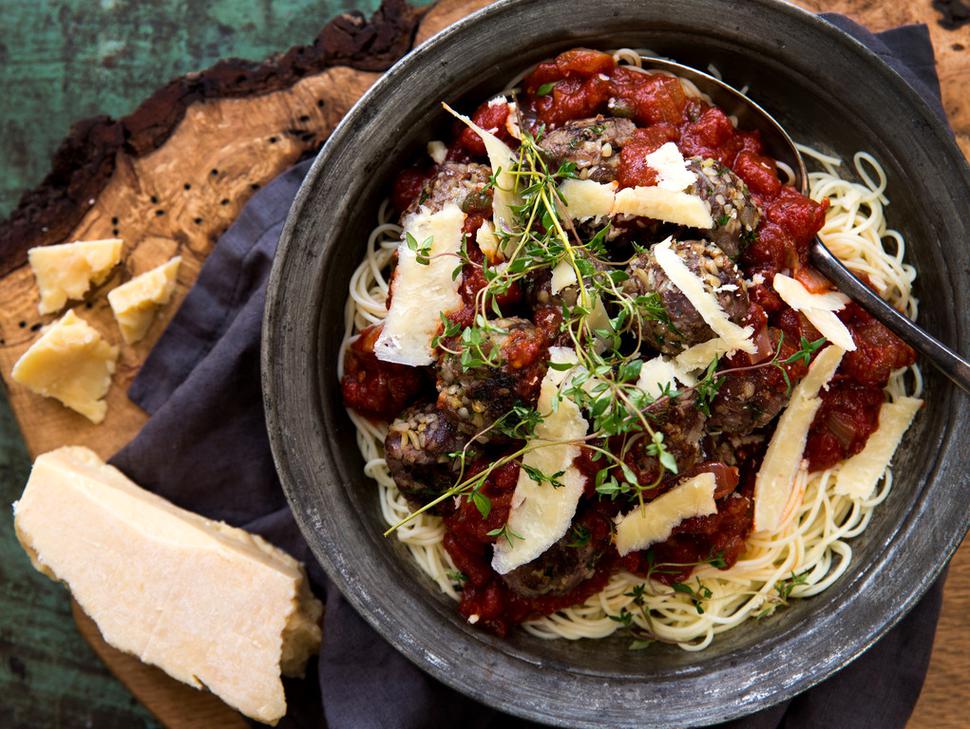 Recipe: Venison meatballs in tomato sauce
Wednesday Feb. 18, 2015
VENISON MEATBALLS IN TOMATO SAUCE
Serves 4
• 400g minced venison
• ¼ cup bulgar wheat
• ¼ onion, finely chopped
• 1 tsp paprika
• ½ tsp oregano
• 2 anchovies, chopped
• Zest of ½ lemon
• 1 egg
• ¼ tsp salt and freshly ground pepper
• 1 Tbsp oil
Sauce
• 1 Tbsp oil
• 1 onion, chopped finely
• 2 cloves garlic, crushed
• 2 anchovies, chopped
• ¼ cup capers
• 1 tsp oregano
• ¼ cup red wine
• 400g tin chopped tomatoes
• 1 Tbsp tomato paste
• Salt and pepper, to taste
• ¼ cup chopped parsley
To serve:
• spaghetti
• ½ cup grated parmesan
1. Place the venison, bulgar wheat, onion, paprika, oregano, anchovies, lemon zest, egg, salt and pepper in a bowl. Mix really well to combine. Roll into walnut-size balls and put on a plate. Chill in the fridge until ready to cook.
2. To make the sauce, heat the oil in a pot to a medium heat.
Add the onion and garlic. Cook for 3 or 4 minutes until softened. Stir the anchovies through, then add the capers, oregano, wine, tomatoes and tomato paste. Season with salt and pepper. Cook for 8-10 minutes until the sauce is thick and delicious.
3. Heat 1 Tbsp of oil in a frying pan to a medium heat. Brown the meatballs on all sides. Add to the tomato sauce and simmer for 4 or 5 minutes until cooked through.
4. Stir in the parsley, and serve with spaghetti, sprinkling with parmesan to finish.
Share this: