Recipe: Walnut, barbecue chicken, apple and watercress salad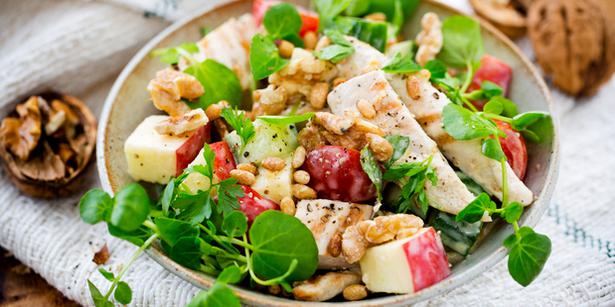 Wednesday Oct. 15, 2014
WALNUT, BARBECUE CHICKEN, APPLE AND WATERCRESS SALAD
Serves 4
• 2 Tbsp olive oil
• 600g chicken breast, sliced through horizontally
• 2 apples, cut into chunks
• Juice of ½ a lemon
• ¼ cup fresh herbs
• 1 cup cherry tomatoes, halved
• ½ cup walnuts, toasted and crushed slightly
• 2 Tbsp toasted pine nuts
• 2 handfuls watercress
• Salt and freshly ground pepper to taste
Dressing: ¼ cup creme fraiche, ¼ cup mayonnaise, ½ tsp curry powder, juice of ½ lemon, 1 Tbsp apricot jam
1. Preheat barbecue to a medium heat.
2. Rub oil over chicken breasts and season with salt and pepper. Place on barbecue and cook for 3 or 4 minutes each side or until cooked through. Remove and set aside.
3. Place apples and lemon juice in a large bowl. Add herbs, tomatoes and half the walnuts and pine-nuts. Season with salt and pepper. Slice chicken and add dressing. Carefully fold through. Place watercress on a platter and gently spread out the chicken. Garnish with remaining nuts and freshly ground pepper.
Share this: