Recipe: Whole roasted cauliflower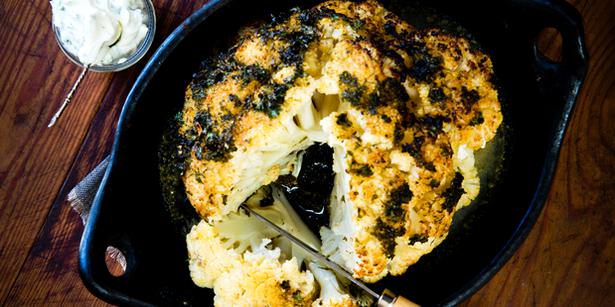 Tuesday Sept. 16, 2014
Whole roasted cauliflower
Serves 6-8
• 1 cauliflower
• 50g butter
• Zest and juice of 1 lemon
• 1 tsp cumin
• 1 tsp paprika
• ½ cup chopped soft herbs eg parsley, dill, chives, tarragon
• Salt and pepper
• 100g soft goats cheese
• ½ cup grated parmesan
• 1 cup wine
• 1 Tbsp chopped herbs, to garnish
1. Preheat oven to 180C.
2. Bring a pot ¾ full of salted water and large enough to fit cauliflower to the boil. Plunge cauliflower in and cook for 5 minutes or until a skewer goes in easily. Remove carefully and place into a small roasting dish.
3. In a small pot melt butter, add lemon, cumin, paprika, herbs, salt and pepper. Cook for 2 minutes until flavours are infused. Stir through goat's and parmesan cheese. Spoon mixture over cauliflower using the back of a spoon to spread into florets.
4. Pour wine into base of dish. Bake in oven for 40 minutes until golden and crispy.
5. Serve with a sprinkle of the fresh herbs.
Share this: