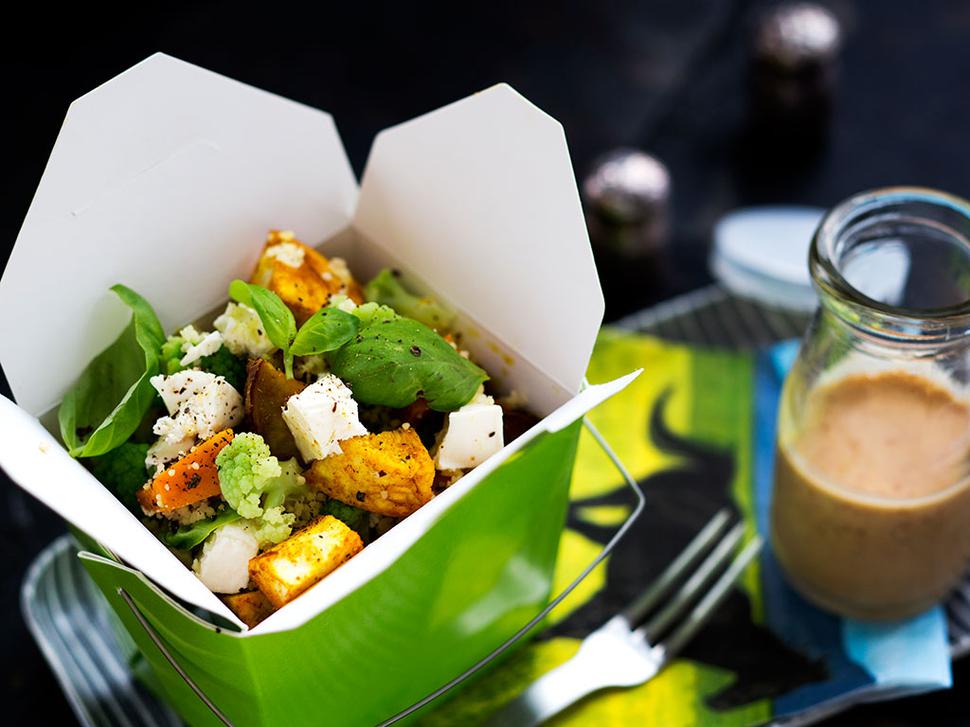 Winter Roast Vegetables With Almond Dressing Recipe
Toss seasonal vegetables with spices and creamy feta and serve with fluffy couscous
Friday June 20, 2014
WINTER ROAST VEGETABLES WITH ALMOND DRESSING 
Serves 4
• 1 large parsnip
• 2 medium kumara, cubed
• ¼ pumpkin, peeled and cubed
• 1 tsp cumin
• 1 tsp coriander
• 1 tsp paprika
• ½ tsp turmeric
• 1 tsp salt
• ¼ cup olive oil
• 1 cup couscous
• 1 cup cauliflower florets, blanched
• 100g feta, crumbled
• ¼ cup chopped basil or parsley
• Pepper and salt, to taste
Dressing
• ¼ cup almond butter
• 2 Tbsp lemon juice
• 1 tsp runny honey
• 1-2 Tbsp water
1. Preheat oven to 180C.
2. Place parsnip, kumara and pumpkin in a roasting dish. Mix cumin, coriander, paprika, turmeric, salt and oil in a small bowl, drizzle over vegetables and mix well. Place in oven for 30 minutes until soft and golden.
Toss once during this time.
3. Place couscous in a large bowl and pour over 1 cup of boiling water. Allow to sit for 10 minutes then fluff with a fork. Cool.
4. To make the dressing, place almond butter, lemon, honey and water in a small jar and shake until well combined.
5. Add roasted vegetables and cauliflower to fluffed couscous. Crumble in feta and toss the basil leaves through.
6. Pour dressing over salad and season with salt and pepper. Mix well to combine.
Share this:
More Food & Drink / Recipes