Zucchini and Halloumi Breakfast Bowl Recipe
Try this delicious breakfast recipe from Bondi Harvest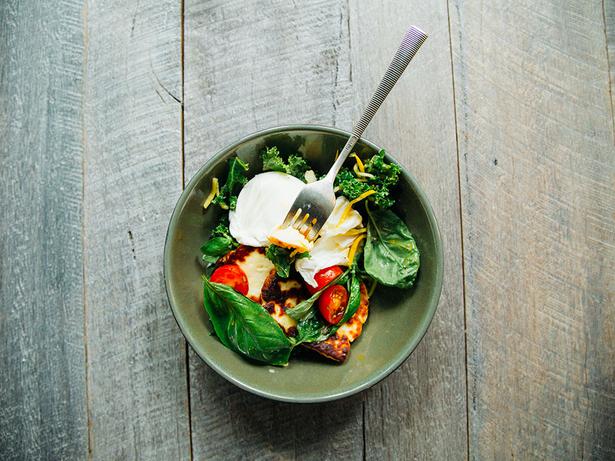 Wednesday July 8, 2015
ZUCCHINI AND HALLOUMI BREAKFAST BOWL RECIPE
Serves 2
Grilled Haloumi Salad
• 100g halloumi, sliced
• 1 bunch basil
• 1 punnet baby cherry or heirloom tomatoes, halved
• 1 tbsp olive oil
Chimichurri Zucchini Noodles
• 2 green zucchinis
• 1 cup chopped parsley
• 1 cup chopped coriander
• ½ cup chopped oregano
• 1 clove garlic chopped
• 200ml extra virgin olive oil
• 1 tbsp red wine vinegar
• 1 tbsp balsamic vinegar
• Small pinch dried chilli
• Rind of 1 lemon
• Salt and pepper
• 3 kale leaves
Poached Eggs
• 4 eggs
• 2 tbsp vinegar
• Pot of water
1. For chimichurri, combine herbs, garlic, oil, vinegar, balsamic, lemon rind, chilli, salt and pepper in a bowl.
2. Slice zucchinis by hand or with a mandolin into noodles then, in a mixing bowl, mix with chimichurri and kale and season with salt and pepper.
3. In a non-stick pan on medium heat, add olive oil then sliced haloumi. Colour both sides, around 1 minute each side. Set aside.
4. Transfer haloumi to a bowl, add tomatoes and basil and serve immediately.
5. Place a pot of water on the stove on a high heat and bring to the boil, then turn the element down to a low to medium heat until water comes to a light simmer, then add vinegar to the water.
6. Crack your fresh eggs into a coffee cup or ramekin then gently pour eggs into the water, let them cook for about 4-5 minutes, then gently remove with a slotted spoon.
7. Combine zucchini mixture, halloumi and poached eggs.
Share this:
More Food & Drink / Breakfast & Brunch