Recipes: 3 hearty soups
Angela Casley creates delicious soups to keep the whole family happy, warm and satisfied.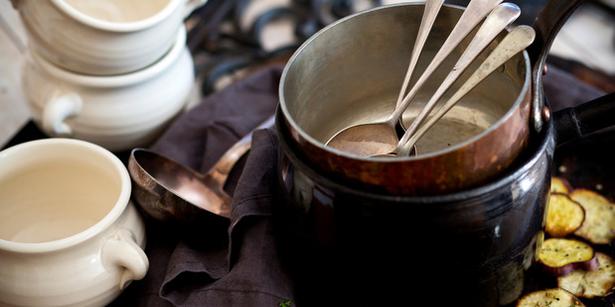 Friday May 30, 2014
Sunday afternoon and my large soup pot, which has been at the back of the cupboard for most of summer, is back in action. I love to make soup, there is so much scope for tasty and heartwarming creations. Plus, it is so easy and a large pot will keep you going for a couple of days. Or, of course, you can store any surplus in the freezer ready to have on hand for those cold winter days when you need a quick and hearty lunch.
The key to a great soup is flavoursome home-made stock. You just can't beat a big stock pot on the simmer filled with an array of vegetables, herbs, and chicken or beef bones. There are a couple of rules when making stock. Firstly, do not allow it to boil or it will become thick and muddy looking instead of a delicious semi-clear jelly.
Although beef, vegetable and chicken stock can be simmered for hours, fish stock should not be simmered for too long - 20 minutes and then strain it off otherwise it will become bitter. Secondly, do not over-season your stock. A tasty well-made stock can be frozen in small containers and whipped out then used to make the best soup or sauce.
Simple as they are, soups do come in different forms. I love to throw all sorts of vegetables into a pot with some tasty stock and make a chunky vegetable soup. I might also add a tin of cannellini beans or chicken thighs chopped with plenty of fresh herbs to make it more substantial.
With this cream of cauliflower soup, I have pureed it to become perfectly smooth and velvety, then served a bite of prawns and bacon on top. This will impress guests as a starter at a mid-winter dinner party. If you prefer your soup a little thinner just add a little extra milk or cream.
The kumara and watercress soup is one of my all-time favourites. It comes from my little red book that has travelled with me for years. I remember making it for my parents' 25th wedding anniversary years ago. Hunt out the watercress, it's worth it. If it's not in your local supermarket, you will find it at vegetable stores.
Not only is it great in soups, but also sandwiches and salads. Just remove any stalky ends and then chop or pluck off the leaves to use. Again, with this soup add extra liquid if you prefer it thinner. Personally I love a thick, heart-warming soup.
The seafood soup is quick, tasty and versatile - simply add your favourite seafood. I like to steam open the mussels then use the liquid as part of the stock. Add some small risoni before the fish if you like. It is quick to cook and adds a little extra substance to your soup.
Warm bread is always a delight with soup, and dunking it is a must.

Recipes:
• Cream of cauliflower soup with crispy bacon and prawns
Share this:
More Food & Drink / Recipes