Recipes: A taste of summer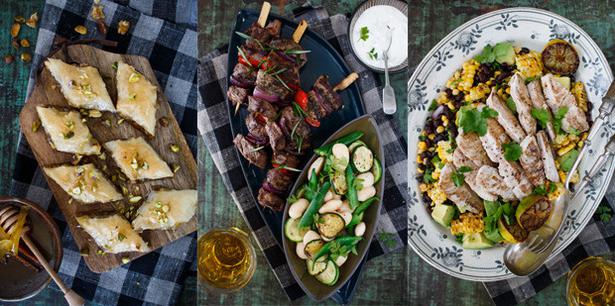 Friday Jan. 16, 2015
From beautiful Coromandel to the beaches of the Far North, these holidays have been all about exploring our beautiful coastline. Glorious days, perfect weather, meandering along tracks in the cool native bush, climbing over rocks, scrambling up steep tracks, marvelling at amazing views, discovering beautiful bays and swimming in the warm sea.
Here, I am inspired by a recent trip to Coromandel Peninsula's beautiful and precious New Chums Beach. As we stood on a hilltop, looking out over the water, I was reminded of holidays on the Mediterranean but, of course, this was even better. There were no people on the beach for the first half of the day, then the day-trippers arrived with umbrellas and picnics to set up for the afternoon. Some even came with a gas burner and mini-barbecue.
As we walked the short track back to the bach, my mind was full of the tasty dishes I'd eaten in Greece and Turkey - two of my favourite countries, where the food is filled with seriously good flavours. I have memories of long bus trips on crowded buses, too nervous to leave my seat in case someone else grabbed it.
Then came the smell of chargrilled lamb on the streets. The hunger would overwhelm me, and food always tasted better wrapped in brown paper straight from the vendor, with fresh Lebanese cucumber and salt to accompany.
Today, I've combined the wonderful flavour of barbecued lamb kebabs with one of my favourite summer salads. Butter beans are delicious, creamy and add substance to a salad. When unexpected visitors arrive, vegetables will help make the lamb in this simple recipe go a little further, while the no-fuss yoghurt dressing adds a fresh flavour.
Next up, fresh kingfish and new season corn make a mid-summer must-try salad.
Fresh, tasty and super-quick to prepare, it can be made on the barbecue at home or at your campsite, with limited dishes. This is a perfect recipe if you have spent the day on the beach or are back at work and feel like a light dinner. Add crusty bread to slurp up any juices.
Finally, to Turkey and its nutty, sweet baklava with loads of honey and hints of cardamom and cinnamon. The honey for this baklava came from a friend who has recently set up his own beehives; it is so delicious I can eat it with a spoon.
Serve the baklava as a dessert with a little Greek yoghurt; one piece will never be enough.

Recipes:
• Barbecued kingfish with corn, black bean and avocado salad
• Lamb kebabs with courgette and butter bean salad
• Baklava
Share this:
More Food & Drink / Recipes