Recipes: Angela Casley's favourite ways to use tomatoes
Tomatoes are gorgeous in salads, sauces or simply by themselves. Here are Angela Casley's favourite ways to use them.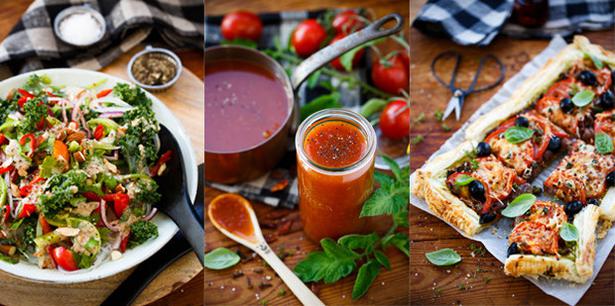 Friday Jan. 30, 2015
To the botanist, tomatoes are a fruit, along with aubergines and peppers, but to us cooks they are a versatile vegetable. Tomatoes are perfect chopped into a salad or sliced and served with mozzarella and basil, or even under a poached egg for breakfast, with plenty of salt and pepper.
This tomato and kale salad is light and tasty, perfect for these long balmy summer evenings - when you get home from work, the last thing you feel like is spending ages in the kitchen. Serve it with a barbecued chicken breast or steak.
I have most dressings pre-made and waiting in the fridge - this makes the preparation even simpler. If you have a bumper crop of beans, this almond and honey dressing is great drizzled on, with a sprinkle of nuts. An abundance of other produce can be tossed into this salad - it's very versatile.
I love a good tomato tart and this one is particularly light and fresh. It is easy to whip up with just a few ingredients and perfect for a picnic, or served with a fresh salad for lunch under the umbrella at home.
I have used home-grown tomatoes that have been ripening on a tray in the sun for the past few days, but the basil is looking a bit sad with the lack of water, so I have used a bought pesto, which works perfectly.
When tomatoes are cooked for a short time the flavour remains delicate; the longer they are cooked, as in the sauce recipe, the more piquant they become. A teaspoon of sugar helps to bring out the sweetness.
When you think how popular tomato sauce is, I'm amazed more of us don't make our own - it's so simple. Just peel and deseed the tomatoes or chop and push through a sieve or colander - which I have done here.
Then toss everything into a large pot and cook away. It couldn't be easier and is a great way to use all those tomatoes in the garden. If you like your sauce to be really thick, use a little cornflour just before it finishes cooking, but do remember it will thicken as it cools.
I gave my niece a bottle of this sauce for her birthday recently and she loved it - perfect for homemade burgers and fries. I am sure she will be back for more.

Recipes:
• Tomato, kale and vermicelli salad with almond and honey dressing
Share this:
More Food & Drink / Recipes