Recipes: Flavours of France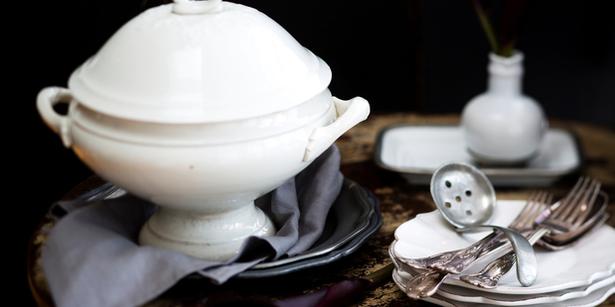 Sunday March 2, 2014
I have recently been in contact with my cousin Celia, who lives in Paris. We have been exchanging catering ideas for dinner parties. She has been presenting menu ideas to a hostess who does not want to worry about cooking and just wants to reheat the food. A Moroccan slow-cooked lamb shank dish has been selected.
This is a recipe Celia had while staying with us last year. It's for a formal Parisian dinner party and will be something a little different for the guests, who are usually served rabbit or osso bucco. The menu the French client settled on also included asparagus and fish terrine to start and cheeses and a citron tart to follow the lamb.
All this conversation about French food, shopping at the markets and swapping recipes got my tastebuds and imagination working overtime and I decided it was time to put on a French dinner party of my own.
We usually associate choux pastry with profiteroles and chocolate eclairs, but I am using it to make beignets, deep fried and eaten hot. The gruyere cheese has a subtle flavour and wonderful gooey texture when heated.
In most instances choux pastry is baked in a hot oven, where it relies on its moisture to create steam for cooking. Choux pastry can be made ahead of time and left in the fridge until you are ready to cook. Don't muck around when the beignets are cooked, they are definitely best eaten hot.
We don't eat a lot of rabbit in New Zealand, but I bet you will be pleasantly surprised by the tender texture of the white meat. The slow-cooked rabbit just falls off the bone. It is delicious, topped with plenty of parsley and served with smashed potatoes to soak up all the juices. Ask your butcher to source you a rabbit if they don't stock them.
When I lived in Scotland I used to flour, egg and breadcrumb rabbit pieces and cook them in the oven just like chicken and you almost couldn't tell the difference. It was a real hit among the children and adults too.
When it comes to French desserts, it's hard to go past a good tart. I've been making this one for years. Prunes soaked in alcohol are soft, sticky and sweet. I like to fold extra prunes through whipped cream to serve.
Make the tart well in advance and leave at room temperature until serving time to concentrate the delectable flavour.
Bon appetit.

Recipes:
• Gruyere beignets (choux puffs)
• Rabbit with garlic, thyme and pears
Share this:
More Food & Drink / Recipes