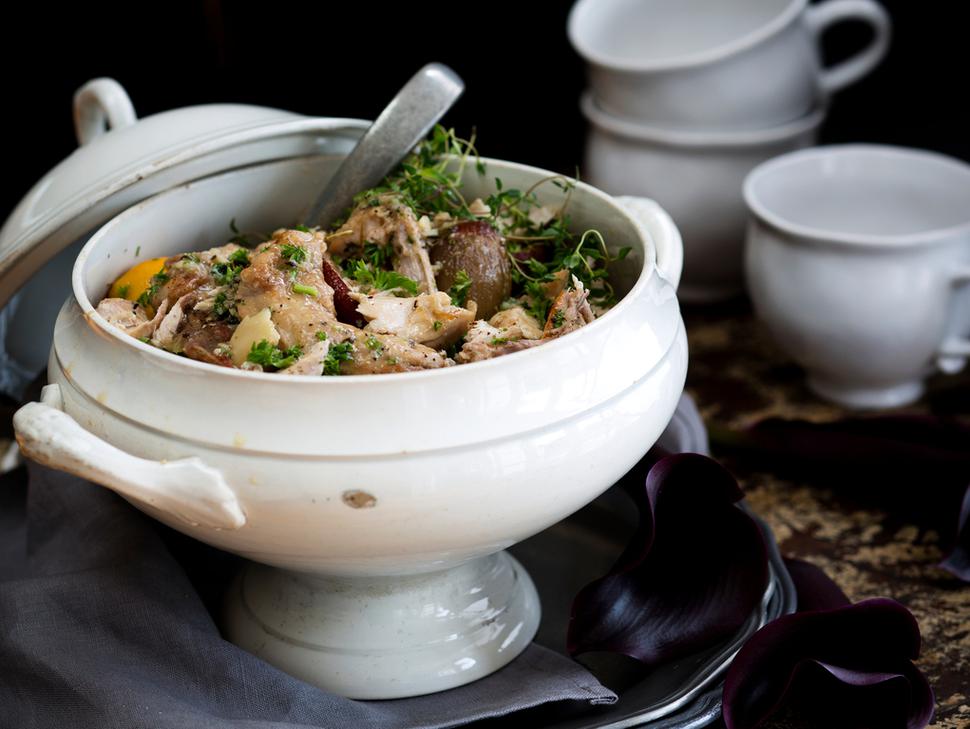 Rabbit Recipe with Garlic, Thyme and Pears
Friday May 2, 2014
RABBIT WITH GARLIC, THYME AND PEARS
Serves 4
• 2 Tbsp olive oil
• 1 rabbit, jointed
• 10 shallots, peeled and left whole
• 1 bulb garlic, peeled and separated
• Salt and freshly ground pepper
• 4 stalks thyme
• 1 cup white wine
• 1 cup chicken stock
• 1 lemon, halved
• 2 pears, quartered
• ½ cup chopped parsley
1. Preheat an oven to 150C.
2. In a frying pan heat the oil to a medium heat. Add the rabbit pieces, 3 or 4 at a time, and brown on all sides. Place into a casserole dish. In the same pan brown the shallots and garlic. Add to the casserole dish. Season well with salt and pepper.
3. Add the thyme, wine, stock, lemon halves and pears. Cover tightly and bake for 2 hours. Check after 1 hour and add a little extra stock if required.
4. Remove the cover for a further 30 minutes. The meat will be falling off the bones.
5. Top with chopped parsley and serve with smashed potatoes drizzled in olive oil.
Share this: