Recipes to make the most of asparagus season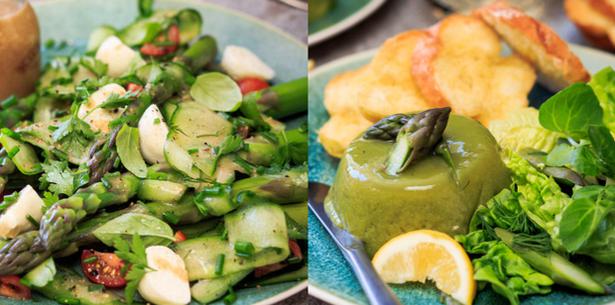 Friday Oct. 24, 2014
Growing up I only knew of asparagus from a tin. These spears were made into asparagus rolls for special occasions - or for really special occasions, Mum would make a mousse and serve it on an elegant cake stand at lunch parties. Other than that, it didn't grace our table at all, unlike today, when versatile fresh asparagus can be served in myriad ways.
As with all good produce, asparagus should be eaten only in season and that is right now. The long elegant spears are so simple to cook. Simply break off the lower quarter of the spear, then steam gently until al dente. The easiest way to serve them is with freshly ground pepper and a blob of butter. Yum.
If you want to use only the very top of the spear, keep the remainder to make soup. Or blanche, dip in egg and breadcrumbs and fry until crispy; delicious dipped in aioli.
The asparagus mousse is perfect for a spring lunch party dish or as a light starter. The preparation is simple. Made the day before and set overnight, it makes for easy entertaining.
Serve with a fresh green salad and crusty mini toasts.
Asparagus and ham work well together in a tart, with a touch of cheese and a creamy filling. If you have a little left-over ham off the bone it is even more special. I like to spread a teaspoon of dijon mustard on the base of the pastry before adding the filling, or add some fresh thyme for a tasty touch.
It's time to start making salads and asparagus turns a basic salad into a meal, plus it adds a visual delight. With the squishy bocconcini and fresh herbs, it goes without saying that it's worth putting on your menu. Add a few nuts add for extra flavour and texture. And, finally, plenty of freshly ground pepper and a squeeze of lemon.
Recipes:
• Asparagus and bocconcini ball salad
• Asparagus, ham and gruyere tart
Share this:
More Food & Drink / Recipes