Recipes: Working with rhubarb
Angela Casley demonstrates just how versatile and delicious rhubarb can be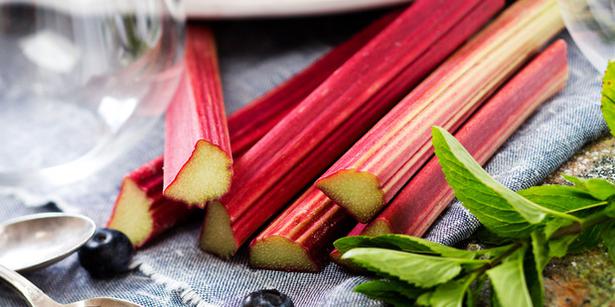 Friday Nov. 29, 2013
Rhubarb - is it a fruit or a vegetable? Botanically it is a vegetable, but we treat it as a fruit. In other parts of the world it is used in stews and in Italy it is turned into a liqueur.
Some older recipes suggest you peel the rhubarb, but that is totally unnecessary and you would lose the lovely deep pink colour from the outside. The leaves, however, are poisonous and must be discarded.
Rhubarb is best picked before it gets too large and when the long, slender stalks are most tender. The cooking time will vary depending on the thickness of your rhubarb. If you want it to hold its shape while cooking, treat it gently. Don't over-boil or it will turn to mush.
I have visited two friends recently whose spring rhubarb is dominating their vegetable gardens, looking lush, juicy and ready for picking. Needless to say, I couldn't resist.
We don't really think to eat rhubarb raw - instead we cook it in crumbles, pies, muffins and jams. But do try it raw. It's quick and easy, and adds an interesting texture and sweet-and-sour flavour to a salad.
The salt and sugar, combined, draw out the juices to soften and marinate the rhubarb. However if left for too long, all the juice will be withdrawn and the rhubarb will become dry, so don't start this process too early. The rest of the salad can be prepared ahead of time.
More commonly we use rhubarb in desserts, such as this creamy and delicious tiramisu. The combination of mascarpone, marsala and rhubarb can't be beaten. Again, don't overcook the rhubarb or it will lose its shape.
This recipe is best made in the morning or even the night before, as I always think it tastes better the next day! For a finishing touch I like to top it with a few blueberries and a sprinkling of white chocolate. Other berries can be added as they come into season.
Today's rhubarb tart is not too sweet and looks wonderful with the roasted rhubarb slightly charred. The tart doesn't use a whole bunch of rhubarb, so I like to stew the leftovers to have with my cereal or, as here, make into a sorbet.
With a spoonful of this on the side of your slice of tart, you will be going back for more. Accompany with a nice dessert wine and you will be in heaven. Again, this recipe can be adapted to make use of whatever fruit is in season.
Share this:
More Food & Drink / Recipes