Red Chicken Curry Recipe with Cabbage and Brown Rice
This red chicken curry recipe is simple and delicious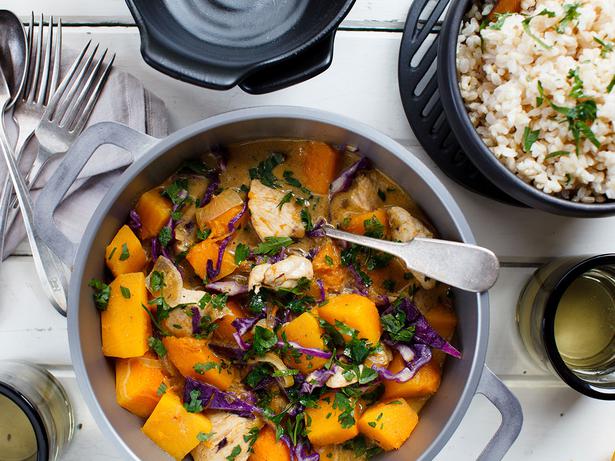 Thursday Nov. 12, 2015
This red chicken curry recipe is one of our weekly winners at home (cheating a little using a bought curry paste for total convenience). The first person home will put on the rice. By the time it is cooked the curry is ready to serve. We are big on wilted red cabbage added at the end, the colour is vibrant and it also adds a little crunch. Even if you're not keen on cabbage, give it a go. You'll be surprised.

RED CHICKEN CURRY RECIPE WITH CABBAGE AND BROWN RICE
Serves 4
1 Tbsp oil
1 onion, sliced
600g chicken breast, cubed
2 Tbsp red curry paste
400g tin coconut milk
1 cup chicken stock
2 cups pumpkin, cut into 2cm cubes
2 cup red shredded cabbage
2 cups cooked brown rice
Coriander, to garnish
1. In a heavy based pan heat the oil. Add the onion and cook until lightly browned. Add the chicken and colour all over. Add the curry paste and stir through to coat the chicken.
2. Add the coconut milk, stock and pumpkin, cooking for 10 minutes until the pumpkin is cooked through.
3. Just before serving, add the cabbage and stir through to wilt.
4. Serve on hot brown rice and garnish with plenty of coriander.
Share this:
More Food & Drink / Recipes